Neck Pillow Store

Travel Pillows

Travel Water Pillow
The Travel Water Pillow provides outstanding comfort and responsive support for the head and neck
Enjoy our popular water pillow in a travel size measuring 13½" x 21". The perfect neck solution for vacation or on the road, A layer of super soft, hypoallergenic fiber with a down-like feel floats over top of the water layer and provides outstanding comfort.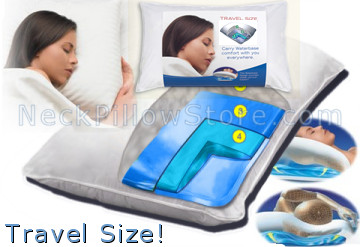 The travel pillow uses a thermal insulator which fully encases the water layer to prevent body heat from being drawn from the head, neck and shoulders.
A water pouch secured to the base of the travel water pillow provides the responsive head and neck support. Easy to follow instructions show how much water to add for soft, medium and firm support. Use ordinary tap water. No chemical additives are required.
Everyone has a body shape and size that is different. Does your travel pillow properly adapt to your particular shape? Our Travel Water Pillow may provide the perfect solution!
The travel water pillow design, when compared to other pillows, is clinically proven the best related to pain intensity, pain relief, quality of sleep, disability, and overall satisfaction in people with neck pain. The water pillow is associated with reduced morning pain intensity, increased pain relief, and improved quality and duration of sleep. The water pillow can significantly reduce neck pain and improve quality of sleep! From the Department of Physical Medicine and Rehabilitation and Department of Neurology, The Johns Hopkins University School of Medicine. Now you can have this advantage when you travel!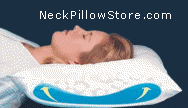 The travel water pillow has the ability to spontaneously conform to the position and shape of the head and neck. The fiber is compressed by the head and neck, and it transfers this weight to the supporting non-compressible water filled pouch. This water in the travel pillow spontaneously redistributes the weight of the head and neck during changes in sleep positions. The movement between the head and the water pouch may also be dampened by the compressible soft fiber.
Measures 13½" x 21" for ease of travel and the water pouch can be emptied and re-filled with regular tap water. Very durable and from personal experience, can withstand the rigors of traveling without leaking.

If we may assist you in any way or if you have questions related to the travel water pillow, please feel free to Contact Us.