Neck Pillow Store

Travel Pillows

Travel Side Sleeper Pillow
Travel Side Sleeper Pillow keeps side sleepers happy when traveling and on vacation
The Travel Side Sleeper Pillow has the same features as our full size side sleeper pillow in a smaller size great for traveling.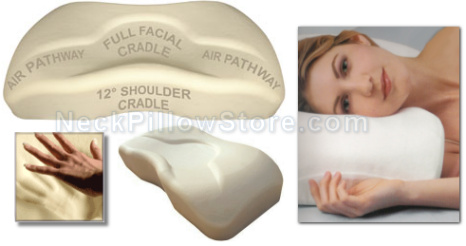 Designed for side sleeping, the travel side sleeper pillow features memory foam for comfort with special face and shoulder contours which helps with head, neck, and jaw (TMJ) pain along with reducing snoring and insomnia.
Offering the most advanced side sleeper pillow design available, the travel version is made as a heat retaining, pressure relieving Visco-elastic memory foam helping to reduce pressure points on the jaw and ear while increasing blood flow to the face, reducing the tendency for wrinkles.
This travel pillow has a contour on either side which improves airflow for easier breathing and may even reduce snoring, while the angle for the shoulder allows comfort for the side sleeper with your head and neck in optimum alignment allowing increased blood flow to the arms.
Now you can enjoy a comfortable side sleeping pillow any time your travel and minimize the unwanted side effects of pressure points often associated with poor pillows and people who prefer a side pillow.
Travel Side Sleeper Pillow measures 16" x 12" x 3".

If you have questions regarding the travel side sleeper pillow please feel free to Contact Us.