Neck Pillow Store

Therapeutic Pillow
A therapeutic Pillow promoting back and side sleeping while providing neck and upper back support
By incorporating two shapes into one pillow, the Therapeutic Pillow allows you to sleep on your back or side with the correct neck alignment.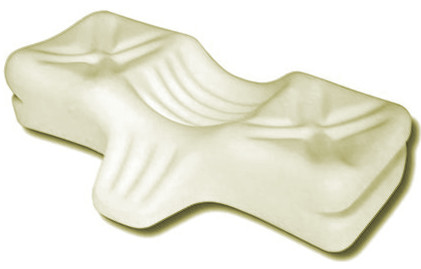 Core has developed the most unique therapeutic pillow in the world because this foam pillow incorporates two shapes into one. The therapeutica pillow is designed to properly support the head and neck when people are back sleeping and side sleeping. The center of the therapeutic pillow is designed specifically for back sleeping with a unique wedge for upper back support. The outside edges of the pillow are designed for side sleeping. The unique density of the foam allows for an extremely comfortable, yet supportive night's sleep.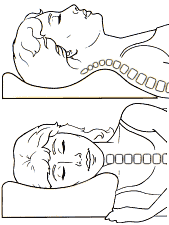 The Therapeutic Pillow is not only an investment in a pillow, but an investment in your future health.
Two pillow shapes are incorporated into one with different heights for back and side sleeping.
A unique orthopedic wedge to support the upper back.
Helps to eliminate sore and stiff neck problems from sleeping incorrectly.
TMJ sufferers can comfortably sleep on their side.
The pillow is patented for both design and function.
Reduces snoring while sleeping on back.
Comes with a fitted polyester/cotton machine washable zippered pillow cover.
Fits into a standard pillow case.
Our pillows are made of non-allergenic environmentally-friendly, recycled foam.
With regular pillows sleeping on your back can push your head forward which can stretch your neck out of alignment. This problem may lead to neck, back and shoulder pain, headaches and can even increase the chances of snoring. When sleeping on your side with a regular pillow, because the height does not change, your neck and head are stretched out of alignment as your spine is not kept level and this aggravates neck, back and shoulder problems.
The Solution Is A Therapeutic Pillow
Back Sleeping Therapy

Side Sleeping Therapy

Unique "Wedge Extension" supports your upper back.
"Cervical Contour" maintains the natural curve of your neck.
"Center Cavity" cradles head for optimal support and comfort.

"Raised Side Sections" accommodate shoulder height.
"Contoured Head Rests" keep your head and neck level.
"Side Cavities" provide flexible cushioning, ensuring jaw comfort for TMJ sufferers.

Once you have tried the Therapeutic Pillow, you will understand why we believe it is the Best Pillow available for proper neck alignment, offering a comfortable therapeutic sleep for both back and side sleeping.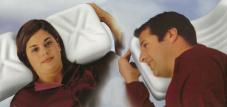 The Therapeutic Pillow is designed and tested by doctors of chiropractic to ensure proper spinal alignment when sleeping on your back or side position for reducing muscle pain and soreness. In addition to ensuring comfort, the therapeutic pillow helps position the neck and head to allow critical air passages to open which makes breathing easier and reduces snoring. Furthermore, the unique tri-level construction allows TMJ sufferers to comfortably sleep on their side.
You may fall in love with the Therapeutica Pillow the first night or it may take a little time to get used to it. It may take a day or two or it may take a week or two. The worse your posture, the longer it usually takes. Once your spine and head have been adjusted to the proper neck posture, you will experience the sleeping comfort and restful sleep you have always hoped for.
The Therapeutic Pillow is made with a soft foam designed to be more supportive than memory foam pillows. There may be some mild residual manufacturing foam odor which will disappear within 2-3 days after removing the pillow from the covering.
| | |
| --- | --- |
| | Have someone assist and measure your left shoulder. Stand Facing the person who is measuring you, arms down to your sides. Hold the ruler to the base of the neck. Keep the ruler Level across the shoulder area. Feel for the arm bone and ignore any muscle beyond the bone on the end of the shoulder. Compare size on the ruler, above the end of the arm bone with the diagram to order your therapeutic pillow. If you fall between sizes, go with the smaller size. |
If you have questions please feel free to Contact Us.