Neck Pillow Store

Neck Wraps

Therapeutic Neck Wrap
Therapeutic Neck Wrap an all natural way to provide pain relief
Therapeutic Neck Wrap has an all natural wheat fill which allows it to comfortably conform to the shape of your neck and shoulders.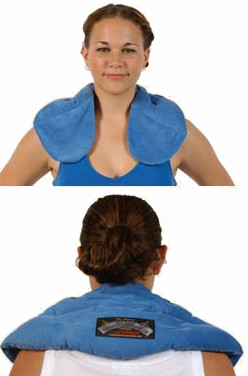 The Therapeutic Neck Wrap wheat content is organically treated and does not contain harmful or dangerous chemicals, it will not grow, rot or go mouldy. The wheat used in the manufacture of Therapeutic Neck Wrap is treated with our exclusive 'ULTRASHEILD' process to be free from weevils, mould, allergenic dust and moisture induced growth. The unique seven stage treatment process gives the wheat it's far superior temperature retention properties.
Once you have tried the Therapeutic Neck Wrap, we are sure you will not want to be without one. The comforting penetrating moist heat this neck warmer gives is far superior pain relief than any other type of heated neck wrap.
Natural pain relief via the soft surface and all-natural wheat fill, the Therapeutic Neck Wrap delivers natural, effective pain management by comfortably conforming to – and applying your choice of heat or cold. This neck wrap is recommended for muscular aches and pains, headaches, back pain, sports injuries and relaxation, as well as for stress and tension relief.
The therapeutic neck wrap is effective pain management and can be used virtually anywhere on your body. Store in freezer. Heat in microwave to provide moist heat. The Therapeutic Neck Wrap is available in red or blue and measures 22" x 6".
For muscle pain, headaches, back pain, sports injuries and relaxation.
Ready in minutes from your microwave oven
Can also be heated in a conventional oven
No-mess cold packs straight from the freezer
Comfortably moulds to the shape of the body
Durable and long lasting
Made from only top quality materials

Instructions for the Therapeutic Neck Wrap: DO NOT OVERHEAT THIS NECK WRAP. Heat the Therapeutic Neck Wrap in a microwave based on the suggested times found on the label sewn onto the wrap. (A microwave with a turntable is recommended.) Instructions are based on using a 750-watt microwave. Reduce heating times when using more powerful microwaves.
To heat, place the Therapeutic Neck Wrap in a shallow, microwavable container in the center of the microwave. Make sure all straps are tucked in so that the wrap can rotate. (Large wraps can be folded.) After heating, shake the wrap and test on the back of your hand before using. Take extra care using this wrap with children, the elderly or sleeping people.
Reheating a warm neck wrap is not recommended as it shortens the performance life. If you need to reheat a warm neck wrap, reduce the heating times. If possible, allow the wrap to cool completely before reheating.
If the Therapeutic Neck Wrap has a dry, roasted smell, it has been overheated, which can shorten its life. If the dry, roasted smell continues after further heating and the wrap has a dry, crunchy feel, discard the wrap.
Instructions for a Cold Wrap: When cold, the Therapeutic Neck Wrap is useful for minimizing heat stress or reducing high body temperatures and swelling.
To cool, place this neck wrap in a plastic freezer bag and freeze for one to two hours.Remove the plastic bag before use. You may store this wrap in your freezer.
Care Instructions: Do not wash the Therapeutic Neck Wrap or allow the wheat to become wet. Clean with a damp cloth or brush, and dry thoroughly in the sunshine.
If we may assist you in any way or if you have questions related to the Therapeutic Neck Wrap, please feel free to Contact Us.