Neck Pillow Store

Neck Wraps

Sports Neck Wrap
The Sports Neck Wrap feels great and helps relieve neck pain and tight neck and upper back muscles.
For some, a bulky wrap is just too much so we offer the sports neck wrap as a lightweight and easy to use wrap.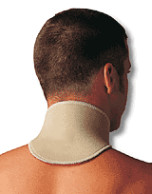 The lined sports neck wrap increases the blood flow to the area to provide warm therapy. With detailed craftsmanship, this neck wrap will last for years.
Designed for the effective prevention, treatment and rehabilitation of pain and injury to muscles, tendons and ligaments.
Provides natural heat therapy and support for injury and pain with perspiration control for long term comfort.
The Sports Neck Wrap, when worn during warm-up prior to activity, increase the elasticity of muscles, tendons and ligaments, reducing the risk of injury when under stress and strain.
The Sports Neck Wraps are a valuable complement to present methods of treatment. These neck wraps can be worn almost anytime and anywhere, so they can continuously work towards helping overcome your injury more quickly, giving increased comfort to injured areas and reducing inflammation and swelling. The sports neck wrap makes tendons and muscles more pliable and elastic, it allows them to become fully extensible and more responsive to therapy and exercise following surgery or lay-off after injury.
If worn at the office, around the house or in bed, wash the neck wrap every 2 or 3 days. If worn during sports activity or heavy work, wash daily.
The Sports Neck Wrap can be worn all year round. For best results we recommend during the winter months, wear prior to, during or after the activity. During the summer months, wear before and after the activity only. Use during the activity should be at the users discretion and comfort.
These Neck Wraps can be worn to bed at night. Evidence has shown that if the sports neck wrap is worn during sleep there is less likelihood of pain occurring.
If a rash appears, discontinue use until the rash subsides. To discourage the rash reappearing we recommend to users, that while bathing they scrub the area the sports neck wrap has covered. If a rash continues please consult your Doctor.
It is most important that the correct size of the sports neck wrap is worn to ensure effective heat retention and treatment. To determine the size required, use a tape measure and check the Sports Neck Wrap Chart for the correct size. The sports neck wrap should be a comfortable fit, not too tight.
Measure around neck under adam's apple. If measurement falls between two sizes, go up to the next size.
| | |
| --- | --- |
| Wrap Size | Neck Circumference |
| X-Small | 11.5" - 12.75 " |
| Small | 13" - 14.25" |
| Medium | 14.5" - 15.75" |
| Large | 16" - 17.25" |
| X-Large | 17.5" - 19" |
| XX-Large | 19.25" - 21 " |
If we may assist you in any way or if you have questions related to the sports neck wrap, please feel free to Contact Us.