Neck Pillow Store

Sinus Pillow
Our Sinus pillow can be used hot or cold for sinus relief
The Sinus Pillow is the ultimate in relief for anyone suffering and from sinus discomfort or congestion from colds or flu and can be used either hot or cold depending on your preference. Each Sinus Pillow has a soft fleece side which allows moist heat to penetrate and the other side is a special, durable fabric which maximizes hot and cold retention providing sinus relief.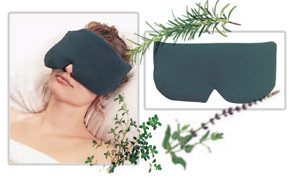 When the sinus pillow is heated in the microwave which is for just a minute, the special blend of aromatic herbs produce a soothing vapor that helps drain and open blocked sinuses. The sinus pillow is made of high quality fleece and pack cloth so it can withstand the heat of the microwave. Can also be stored in the freezer and used as a cold pack.
When you prefer heat to help open and drain the nose and blocked nasal passages, relieve headache or help you drift off to sleep, our Sinus Pillow provides soothing warmth and a vapor effect with our special blend of herbs to ease congestion in the chest and sinus. The soft, heatable material is light and comfortable on the eyes and forehead and delivers consistent, comforting heat for up to 45 minutes. Excellent sinus mask for naps or to help when you have trouble sleeping at night.
BASIL - Mentally clarifying, antispasmodic, treats respiratory ills.
MARJORAM - Analgesic, sedative, eases respiration.
PEPPERMINT - Cooling, soothing, decongestant.
ROSEMARY - Analgesic, relaxant, reduces mental fatigue, increases circulation, eases headaches.
SAGE - Clears sinuses and relieves headaches.
THYME - Anti-viral, good for respiration, nerve tonic.
Each sinus mask contains a mixture of organic long-grain rice for its heat and moisture retention qualities, along with a balanced blend of aromatic herbs and spices selected for their calming, relaxing or healing influence on the mind, body and emotions.
Our synergistic therapeutic blends contain whole, natural herbs and spices which are selected for their unique healing effects on the mind, body and spirit and proven through centuries of use in traditional medicine, ayurvedic therapies and modern holistic practice. Spices and herbs which stimulate circulation can also help to clear toxins from muscles and joints, reduce swelling, relieve pain from arthritis and headache. Aromatic herbs can promote deep, healthy breathing by helping to reduce congestion in lungs and sinuses. Analgesic and sedating properties can help to relieve pain, promote relaxation, enhance sleep and reduce physical and emotional tension.
The Sinus pillow is made with top quality materials that last longer and hold heat and cold better while safely and effectively producing intense therapeutic results. Weighs approximately 1 pound.

If we may assist you in any way or if you have questions related to the Sinus Pillow, please feel free to Contact Us.