Neck Pillow Store

Pressure Point Therapy
Pressure Point Therapy can help relieve headaches, stiff neck and low back pain
Pressure point therapy increases blood flow to specific accu-pressure points along the neck and back, helping to relax muscles, decrease pain and promote healing.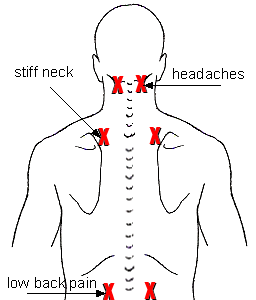 For centuries, pressure point therapy has been used by many cultures to treat poor health. Sometimes referred to as "trigger points", these tender spots may occur in a muscle and produce additional soreness or refer pain to other muscles or areas in the body.
Applying pressure point therapy to these areas can reduce pain and stiffness, restore function, increase range of motion and improve strength, posture and balance.
There are many methods of treating pressure points from massage to injecting the areas, however, pressure point therapy using a deep sustained pressure to the area using either soft pressure for about 90 seconds or a harder pressure of for about 30 seconds creates changes within the tissues of the muscles. These changes allow greater blood flow, increasing oxygen and nutrient uptake, as well as the removal of metabolic waste. This increases energy in the muscle cells allowing them to fully relax and the beginning of the natural healing process.
If you have chronic neck and upper back or lower back pain, you can effectively treat yourself at home. Utilizing a pressure point therapy tool to apply pressure yourself, you should be able to notice reduced pain within one week. In some instances, immediate relief of headaches can be obtained after one treatment.
We have some great pressure point therapy tools which can be used at home to help treat yourself.
Pressure Point Massager

Light and easy to use. Provides pressure point therapy to the neck and back in hard to reach areas.
Pressure Point Massager Details