Neck Pillow Store

Pressure Point Therapy

Pressure Point Massager
The pressure point massager reduces tension and pain in the muscles of the neck, shoulders and back while increasing flexibility
The pressure point massager is designed so that you can give yourself a neck, back or shoulder pressure point massage easily. This is a great alternative for those who live alone or choose not to seek someone else to deliver their pressure point therapy.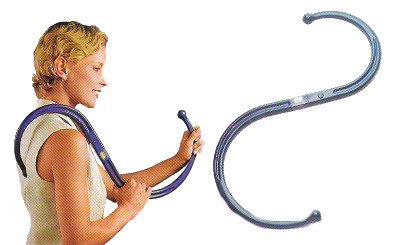 The Pressure Point Massager can get to areas that are difficult to reach while you control the pressure. Great for pressure points or what are sometimes called "trigger points" which are "sore spots" or areas of muscle strain in the the neck or upper back and between the shoulders. These trigger points are important to eliminate with the pressure point massager because they can be a large contributor to headaches, neck stiffness and back pain.
It's portable, take the pressure point massager when you travel or go to work! Perfect for reaching your back and neck muscles without having to strain or lean against a wall. Attack those nasty areas and use the pressure point massager to massage stiff and painful areas in your neck and back with results like the professionals.
Uses leverage to apply deep pressure to the muscles of the neck, shoulders or back. Reduces tension and pain, increases flexibility and function.
Made of strong reinforced polymetric resins. Includes a helpful fully illustrated users guide which describes with pictures how to use this great pressure point massager.
Built in locking device, also conveniently separates into two pieces which allows it to fold for easy storage and travel.
The Pressure Point Massager is available in: Charcoal Black, Cobalt Blue, Mint Green and Purple. If your color selection is not available, we will substitute with another color.
Details for using pressure point massage

If we may assist you in any way or if you have questions related to the pressure point massager, please feel free to Contact Us.