Neck Pillow Store

PostureMed Pillow
The PostureMed Pillow is specially designed to help provide neck pain relief
If you need a neck pillow to help with neck pain, morning stiffness, arthritis, neck strain or tmj (jaw problems), the PostureMed can help. Using high quality foam materials and not some cheap import often mixed with sand, the PostureMed is the perfect combination of support and comfort.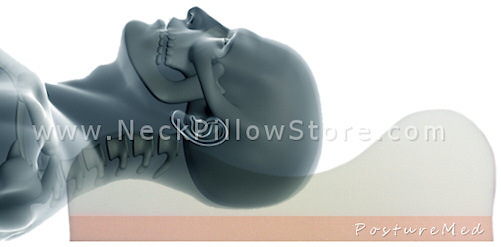 Desined by a doctor for his chronic neck pain condition and tested for over one year, the PostureMed Pillow blends state of the art memory foam materials with specifically formulated properties such as density, percent of indent force deflection, tear strength and elongation pecentage for a truely remarkably comfortable pillow.
Whether your looking for a first time pillow or if you have tried other pillows with poor results, PostureMed may be the solution. This is the pillow we recommend the most and it is also one of the most affordable, making it a great value for investing in your health.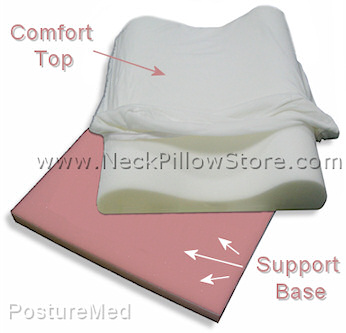 Using a combination of soft and firm densities, the PostureMed Pillow provides a more stable base and soft top. Some high-end brand name memory foam pillows use a density that feels firm. They state how it reacts to temperature and show a hand print in the pillow that remains well after the hand is removed. Actually, this is not the best type of material to use for neck problems. The slow reaction of the foam fails to keep consistant support and the high temperature sensitivity means the pillow will be hard when it is cold. PostureMed solves this problem by providing a soft pillow that is quick to react to your movements.
The PostureMed Pillow has no odor that needs to be aired out prior to use. With many memory foam pillows, residual manufacturing or chemical additives leave the pillow with an odor that may prevent using the pillow when it is received. Due to the manufacturing process, has no offensive odor and is ready to use immediately. Furthermore, due to the quality of materials, the PostureMed breathes easier than many types of foam used in popular brands.
It has been our experience that the PostureMed has the highest user satisfaction of any pillow we have available. Along with an affordable price, this makes the PostureMed Pillow a best value. There are no suprises as with some pillows that use variable height surface levels which can be troublesome when changing positions while sleeping, or pillows that require considerable work and adjusting to get it right along with periodic maintenance.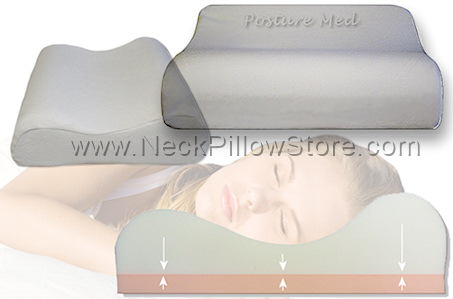 The pink is for illustration purposes only - actual color is white
Although, on the outside, the PostureMed looks like a typical memory foam contour pillow, on the inside is a combination of specifically designed materials that makes this pillow stand out from the rest.
The purpose of the unique design is bridge the gap between displacement and supportive pillows. This allows consistent use of one pillow without adjustments or having to switch between different types of pillows. This helps prevent flare-ups from chronic conditions like arthritis and also serves to provide soothing support for acute conditions like whiplash.

The PostureMed is also designed to maintain a more correct posture while sleeping. Firmer pillows can keep the head forward from the body as you must conform and adapt to the pillow. The PostureMed adapts and conforms to you, which helps to keep the spine in better alignment.
The PostureMed Pillow measures 20" L x 15" W with 4" and 5" contour lobes. The functional height depends on your weight as the pillow reacts to allow maximum postural alignment in both back and side sleeping positions. Includes comfortable cotton/poly(80/20) pillow cover. In stock ships same or next day!
The PostureMed Pillow has a very comfortable and plush cover. It can be frustrating and expensive to replace most quality pillow covers. To solve this problem, additional covers for the PostureMed are readily available. Most people enjoy sleeping on the original pillow cover as it adds to the comfort level. We offer original PostureMed replacement pillow covers.

PostureMed Pillow Rating



View All Pillow Ratings
If you have questions related to the PostureMed Pillow, please feel free to Contact Us.