Neck Pillow Store

Pillow Pedic
The Pillow Pedic has a 4 way support system for neck pain relief that is perfect for back and side sleepers
You spend nearly a third of your life in bed; shouldn't you be comfortable and in proper postural alignment during that time? You can be with our pillow pedic memory foam which offers a four-way support system to suit your individual condition and build. The pillow pedic has a combination or memory foam, therapeutic foam and soft fiber resulting in a perfect neck pillow for both side and back lying sleeping positions.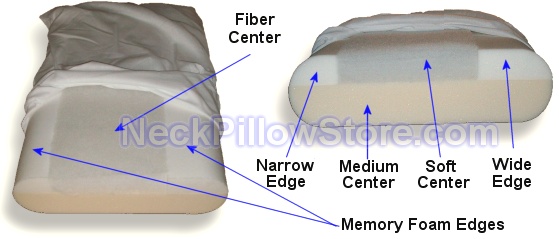 Based on the latest research, product testing and customer feedback, we have improved our foam pillow! The fiber fill in the pillow pedic has been increased by 40 percent, providing even better neck support. The patented Sleep Cycle System provides improved spinal alignment and stability during sleep, with improved transitions though all sleep stages and positions.
With the addition of memory foam we get a softer pillow with an adaptable therapeutic edge which continuously conforms to your head and neck for gentle, corrective support. This virtually eliminates break-in time and gives our foam pillow a superior feel.
The PilloPedic provides relief from neck pain by positioning the head in a more comfortable position and providing a mild traction on the neck. The pillow features a narrow and wide edge and a soft and medium center, so you have four support options in one pillow to suit different sizes, ages, or body types all in one easy to use, lightweight pillow.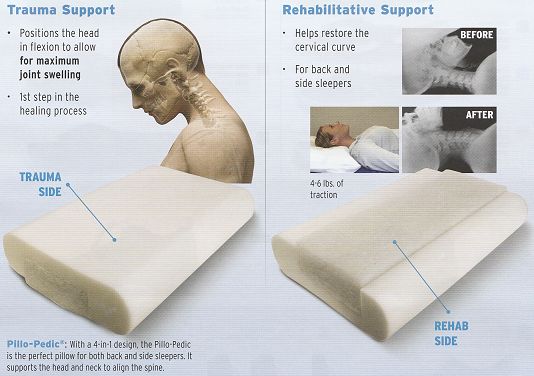 This pillowc was developed to help provide therapeutic neck support during rest, and to help adjustments "hold" longer. Our pillow provides an extension of treatment never before possible. It's really four pillows in one. If you are a small-framed individual who needs firm support, the Narrow Edge/Medium Center combination may fill your needs. Large-framed individuals who require a softer support will enjoy the Wide Edge/ Soft Center combination. A few minutes of experimentation will determine the combination most beneficial use of the pillow pedic to your needs. Memory foam colored yellow for illustrative purposes.
Recommended for patients with neck pain by Chiropractors Nationwide. Provides gentle traction while you sleep, helping promote correct neck alignment and maintain cervical spine support. The patented four-way design includes a specially constructed memory foam edge, for added support, and a flat profile which helps eliminate pillow "roll away". Designed for both side or back sleeping positions, the pillow pedic helps you WAKE WELL RESTED AND REFRESHED after a great night's sleep! Also helps to relieve whiplash neck injury, neck and shoulder discomfort and tension headaches.
The PilloPedic has a gentle traction feature that works while you sleep to help provide correct neck alignment and head support. Full sized bed pillow, and its durable construction features non-allergenic polyurethane and polyester fiber - not foam rubber, for the longest lasting pillow available. Soft & Comfortable! The four-way design means the Pillow Pedic has an edge that's just right for you!
Position a firm edge of your pillow pedic under your head, touching your shoulders. Bend knees and push upward slightly with your feet so the back of your head sinks into the middle section. Now straighten one leg, then the other. This action will pull the body downward (creating traction on the neck) as the head is held gently but firmly by the memory foam edge. This will result in a relaxation of the neck muscles and encourage normalization of the spinal curve, which can help nerves, bones and soft tissues (muscles, tendons and ligaments) in your neck and shoulders function better.

Due to its unique design and the personal nature of the pillow pedic benefits, there may be a period of adaptation of 1-2 nights or more. Once you and your pillow have adjusted to each other, you will begin to fully enjoy its comfort and therapeutic benefits.
NEVER WASH your Pillow! Washing, even hand washing, will destroy the comfort and benefits. You may freshen your pillow by an occasional light spraying with Lysol or similar brand spray. We suggest that the zippered protector be used under a regular pillow case. Pillow measures (L) 23" x (W) 15-1/2" x (H) 4-1/2"
If we may assist you in any way or if you have questions related to the PilloPedic, please feel free to Contact Us.