Neck Pillow Store

Neck Wraps

Neck Wrap
Neck Wrap provides soothing moist heat and support
Our neck wrap is washable, odor-free, dust free, and will not support bacteria or fungi growth. The neck wrap needs no special cover, will not dry out, dissolve, or develop odors.
Easy to use microwavable neck wrap provides soothing moist heat with secure fastening for hands free therapy.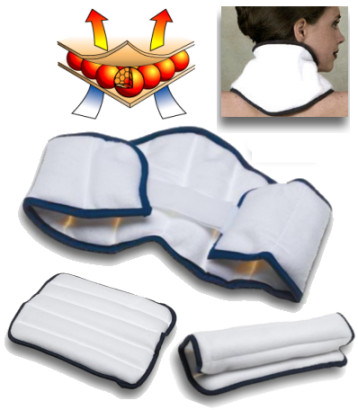 The neck wrap draws moisture from the air and release it as clean, deep-penetrating, moist heat when microwaved for just a minute or two. The material in the wrap does not absorb body oils, perspiration and other foreign substances, and it will not dry out or disintegrate over time. This prevents potentially dangerous hot spots from forming in the wrap.
Sewn into soft plush fabric, the neck wrap conforms to neck contours, permitting a soft, snug fit and providing maximum benefit from each treatment with no boiling water or drippy mess. Easy to apply, fits snugly, and stays in place so you can remain active.
This neck wrap is safer to use than most gel pack wraps. A gel pack will continue getting hotter after removal from microwave and may explode or rupture if overheated.
The neck wrap delivers moist heat safely, effectively, and economically for relief of pain associated with: arthritis, joint pain, tendonitis, sore and aching muscles, tension and stress. Moist heat is recommended because of its ability to penetrate deeply and more quickly at lower temperatures than dry heat.
Ease of use and unique wrap design helps assure satisfaction: Designed with an elongated area in the back to comfortably drape around the neck to reach the lower and upper neck muscles.
A note about the new disposable heat wraps advertised. Continuous low level dry heat has been around for years. The new disposable wraps that stick to your body designed for 8 hours of application uses use iron oxidizing technology. Dry heat applied directly to the body for eight hours has not been proven to be more or less effective than a single 20 minute moist heat treatment. Some materials in disposable heat wraps are toxic if swallowed and can cause irritation when held against the skin for hours. In addition to safety, the economics of using a disposable wrap every day versus the proven pain relief of a moist heat neck wrap when needed is obvious.
No Added Water Needed
Easy to Use - Ready in Minutes
Washable and Reusable
Soft, Conforming Unique Shapes
Available Neck Wrap: measures 6 x 22 inches and Back Size: measures 9 x 12 inches.

If we may assist you in any way or if you have questions related to the neck wrap or hot pack, please feel free to Contact Us.