Neck Pillow Store

Neck Traction
Neck traction has been applied widely for neck pain relief
In one form or another, neck traction is a major part of conservative management for neck disorders and is generally an effective therapy. The major goals of neck traction include: relief of pain, decrease pressure on nerves, ease muscle spasm.
In general, neck traction devices improve the blood supply to neck muscles, tendons, and ligaments and promotes relaxation by releasing pressure, stiffness, muscles spasms, and stress in the neck, head, and shoulders area.
Neck Traction is basically pulling on the head to take weight off the neck. Since your neck has to hold your head which weighs about 10 pounds, it rarely gets a break. When the weight is removed, traction can help to relieve irritated joints, nerves, and muscles.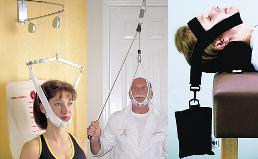 While neck traction has traditionally been done in a clinic setting, there are many good neck traction devices that can be used at home.
Some traditional neck traction devices use harnesses attached to weights and either hung over a table or from a door. These devices can put stress on the jaw and are generally not viewed by many to look relaxing or easy to use.
Fortunately, technology has made traction devices more user friendly and comfortable.
Neck Support

Lightweight, portable and comfortable. Provides neck lift, stretch and traction with air inflation that you control.
Neck Support Details

Neck Traction Collar

Comfortable Traction Collar with dual pump action for a more personalized pain relief experience.
Neck Traction Collar Details

Posture Neck Traction

Our Posture Neck Traction may correct years of poor neck posture which can to arthritis, pain and stiffness.
Posture Neck Traction Details
Pro Neck Traction

Clinically proven neck traction is a portable and effective with no pressure on jaw!

Pro Neck Traction Details

Neck Pain Pillow

Provides traction to relieve neck pain by restoring the natural curve of the neck.

Neck Pain Pillow Details
The new designs make it more comfortable and easy to use neck traction at home. Now, everyone can benefit from regular use of these devices to lengthen neck muscles and separates cervical joints which often results in rapid and prolonged relief from the soreness and irritation that accompanies neck problems. Gentle traction exercises the neck muscles increasing circulation. Firmer traction lowers the pressure between neck joints, freeing pinched nerves and easing herniated discs.
The new neck traction devices use an inflatable design which you can pump to a desired level that is most comfortable to you and your particular condition. there is even a support pillow designed to provide mild traction and restore the normal neck curve. They are lightweight, easy to travel with and effective for neck pain relief.
You should not use neck traction with: fractures, postoperative conditions, severe rheumatoid arthritis, inflammatory disease, any malignancy, mental disorders, spinal cord injuries, dental problems or blood clotting disorders
If you have questions related to the neck traction devices, please feel free to Contact Us.
For A Huge Selection Of Devices, Visit Neck Traction Solutions