Neck Pillow Store

Neck Traction

Neck Traction Collar
The Neck Traction Collar by TracCollar is effective and convenient; use in front of the TV, while using the computer, standing and traveling
The Collar was developed by orthopedic engineers for a better, more comfortable home treatment. The collar is constructed of plastic foam while the inflatable bladders inside containing natural rubber latex. The fabric covering is made of durable tricot with 97% cotton and 3% lycra.

TracCollar comes in 2 sizes. Measure your neck circumference: Regular: 14 - 16" (34- 42cm) & Large 15 - 18" (37 - 46cm)

An effective traction device that is both elegant and portable. Use the collar when it is convenient: in front of the TV, while using the computer, standing, traveling, around the house or lying down on a pillow.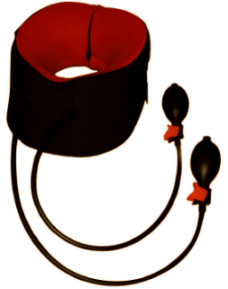 There are 2 hand-held bulbs on the neck traction collar. Each one inflates the bladder on one side of the collar creating an upward pressure on the head and providing slight traction to take pressure off of irritated nerves and sore muscles. The user has complete control of the level of inflation, thereby controlling precisely the amount of traction on the neck.
You can achieve a reliable and effective traction treatment in your daily care. Simply wear the collar and fasten the two straps in the back and it's ready to use. A custom level of traction is achieved by inflating one or both of the two bladders inside the collar using the hand pumps. Air can be controlled and released from the collar simply by pressing the release button on each pump. The maximum amount of traction is achieved with 15 pumps of each side, but you can choose less according to you personal preference.
There are no complicated setup instructions or metal attachments, hinges, pulleys, and cords. No weights, messy water bags or blocking doorways when in use and no annoying head halters that don't fit properly. The TracCollar is easy to use, comfortable and effective.
| | | |
| --- | --- | --- |
| | | |
| Collar Not Inflated | One Side Inflated | Both Sides Inflated |
Designed and constructed so you can easily and safely do the traction by yourself



Helps relieve head and neck discomfort, stiffness, stress and fatigue, disc related pain such as swollen or degenerative discs and nerve pressure



The neck traction collar has a unique design allowing you to adjust the left and right side for a perfect stretch



Portable and lightweight for home or office use



Not for recent sprains/strains, injuries or acute conditions. If you feel light-headed, dizzy, nauseous or experience any pain,discontinue use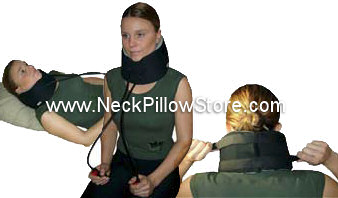 General Instructions:
Place the collar gently on your neck with the opening in the back. The inflation bulbs should be in the front of the collar. Place your chin in the groove at the front of the collar. There should not be any squeezing sensation in your neck or discomfort
Fasten and adjust the collar with the buckles. The collar should only rest against the front and back of theneck. Behind the neck, the ends of collar may not necessarily touch; however, the bladders will still inflate the device evenly.
To use the traction in a seated position, sit up straight with your back against the chair. Your head should be in a level position facing forward. For use lying down, a pillow is recommended.
Inflate by pumping the bulbs until a light stretch is felt in your neck. You can adjust the right and left sides by inflating the appropriate bulb to find the perfect pull.
Your head should rest comfortably against the back of the collar.
Pump the bulbs again until a pleasant stretch is felt. The bulbs should not be pumped more than 15 times on each side.
Press the valves to release the air pressure before removing the neck traction collar