Neck Pillow Store

Neck Support Pillow
Neck Support Pillow is a drug-free way to help alleviate neck pain and even snoring.
Our premier, fiber-filled neck support pillow is the highest quality cervical support pillow available. As you sleep, this pillow cradles your neck in its most natural and neutral position. The down-like feel of this pillow provides lasting comfort, freshness, excellent support and superior pillow life.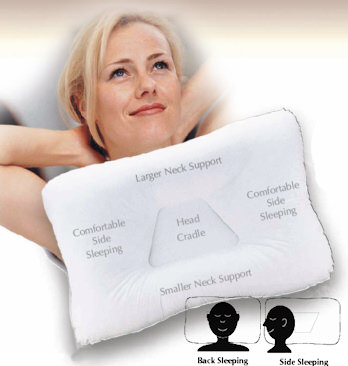 The neck support pillow is handcrafted with high quality hypo-allergenic, antimicrobial fiber to combat the growth of bacteria, mold, and other microorganisms. Designed to help relieve neck pain with back or side sleeping.
The unique trapazoid shaped center cradles your head to provide maximum support and pain relief for mechanical neck pain. Two different size neck supports at the top an bottom of the pillow enables you to choose the side that supports you best. Ample side wings for side sleeping mean that even if you toss and turn a lot during the night, your head and neck are always cradled in comfort and support.
When sleeping on your back, the neck pain pillow uses a trapezoid shape center to cradle your head to support the neck in a natural position for a more comfortable sleep. It reduces nerve pressure on the neck to reduce muscle stress and tension for a more restful sleep. As you roll from you back to one side, the neck support pillow again properly supports the neck. The sides of the pillow are recommended for side sleeping. The neck is gently held in a comfortable position on the raised section of the pillow.
The neck support pillow is the fiber support pillow most recommended by professionals who most commonly treat neck pain. In addition to alleviating pain caused by many conditions, airway blockage – a major cause of snoring – may also be helped
Most people experience an increase in sleeping comfort within a couple of days of using this pillow. Others may require up to two weeks before the neck and back muscles adjust to their proper position. The neck support pillow fits a standard-sized pillowcase with a a white 100% cotton cover included.
Helps relieve headaches, joint strains, arthritis, neck pain and more. Measures: 5" x 16" x 24" and is available in Firm or Gentle support options.
Our neck support pillow is also available as an inflatable neck pillow providing a custom level of support and a child neck pillow great for children and small adults.
Support suggestions: If you have a large frame - choose the firm. If you have a small frame - choose the gentle. In general, women should choose the gentle support pillow and men should choose the firm neck pillow.

Neck Support Pillow Rating



View All Pillow Ratings
If we may assist you in any way or if you have questions related to the neck support pillow, please feel free to Contact Us.