Neck Pillow Store

Neck Wraps

Neck Shoulder Wrap
Ease pain and stiffness with our soothing aromatherapy Neck Shoulder Wrap
Our Neck Shoulder Wrap contains organic long grain rice for its moisture content and weight. Each neck shoulder wrap also contains specially formulated aromatic herbs and spices carefully selected for their healing properties.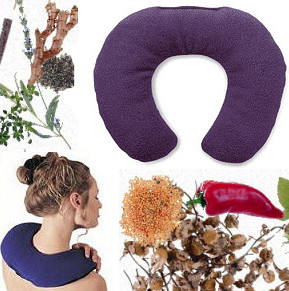 This neck shoulder wrap is a soothing way to ease away pain and stiffness in the neck and shoulder areas, can be used tight around your neck or wider out onto the shoulder and upper back region.
Benefits of neck shoulder wraps include: the ability to be used hot, quickly heats in microwave and stays hot 30-45 minutes, provides penetrating moist heat, as well as provides gentle acupressure.
Our herbal neck shoulder wrap is thicker, heavier (3 and 1/2 pounds), and provides better moist heat properties than ones filled with flax seed. No wild and fancy patterns on this neck shoulder wrap, just quality materials and craftsmanship for a superior product.
Great to use while practicing breathing exercises for a very relaxing therapy to reduce pain and stress.
All natural herbs included in our aromatherapy heat wraps are allspice, black pepper, cinnamon and clove.
Allspice is known to be a natural sedative and pain reliever for relaxation.
Black Pepper stimulates the circulation to reduce swelling.
Cinnamon is a rheumatism analgesic and natural pain reliever.
Clove is an analgesic for arthritis, natural pain reliever and sedative.
To use hot, just microwave the neck shoulder wrap for 45 seconds to 1 minute and enjoy the penetraitng moist heat and relaxing aromas . Easy to clean, just wipe with a sponge and these wraps should last 3-5 years.
Our neck shoulder wrap combines the benefits of Moist Heat, Herbal Aromatherapy and gentle Acupressure into one naturally soothing, therapeutic experience.

If we may assist you in any way or if you have questions related to the neck shoulder wrap, please feel free to Contact Us.
related product



herbal neck wrap