Neck Pillow Store

Neck Roll Pillows
Neck Roll Pillows for Various Comfort and Support Levels
Finding neck roll pillows that have just the right length, size and shape as you sleep or recuperate from an injury can send you off on quite a search. That's why we offer a wide range of Neck Roll Pillows for home use.
Choose from shapes, sizes... and even firmness levels. We offer a wide variety of quality, precision-cut foam neck roll pillows designed to perform various support and comfort functions. Durable covers offer wipe clean properties.
Our Neck Roll Pillows support the neck and cervical spine at different elevations: approximately 3.5" and 3.75" foam, 5" memory foam, 5" inflatable and an 8" fiber fill offering more subtle elevation and greater stability. We even offer the 20" x 3.5" foam neck roll pillows in both Soft and Firm levels of support. Some can also be tucked not only under the neck, but also the back, knees and ankles to aid comfortable sleep or help when recuperating from an injury. Natural pain relief is yours.
Fiber Neck Roll Pillow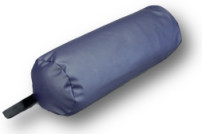 Our fiber filled Neck Roll Pillow provides gentle support under the knees or ankles, or behind the neck during treatment or rest.
Each of these neck roll pillows is made with soft, fluffy fiber fill, encased in an easy-to-clean vinyl cover. Each neck roll also comes standard with a heavy-duty positioning strap, making it easy to reposition.
The fiber neck roll pillow provides comfortable, gentle support wherever you need it most. It measures 8 x 24" and is available in Black, Blue and Gray.
---
Foam Neck Roll Pillow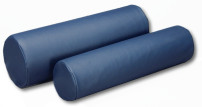 Use these neck roll pillows for a wide variety of comfort and support applications. Their small profile makes it easy to achieve proper neck or back support without adding extra bulk. The Cervical Foam Neck Roll Pillow easily fits inside your pillowcase to help restore your cervical curve. Precision-cut foam in a cotton/poly cover.
These neck roll pillows are specially shaped to help provide comfort and support. Use it under your neck for correct sleeping posture, or behind your back for lumbar support. Use it behind your knees for additional comfort while resting. This roll is great for use at home or when traveling.
---
Memory Foam Neck Roll Pillow

This is the most popular of our neck roll pillows! It uses a temperature sensitive memory foam and comes with an optional hot/cold pack insert which can be heated in the microwave or cooled in the freezer for a unique and comforting experience.
It measures 5" x 14" with a zippered cotton cover which can be removed and washed. It is very versatile and great as a travel pillow for both back and neck. Order the neck roll by itself below or, for further details and the hot/cold pack option, see the Neck Roll Pillow.
---
Inflatable Neck Roll Pillow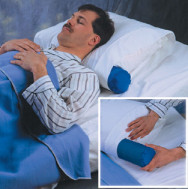 This full-length cylinder-shaped Inflatable Neck Roll Pillow slips into a pillowcase to provide comfortable support to the cervical spine during sleep. This Neck Roll Pillow inflates to a firm, air-filled cylinder that can be adjusted for personalized support. The inflated 21" x 5" roll slips into a pillowcase for comfortable neck support and folds flat for easy travel.
Positions between pillow and pillowcase to provide the gentle and adjustable support of air for the cervical spine; easily inflates to desired comfort level and deflates for portability.
Provides cervical support while sleeping and manufactured from medical grade durable nylon-coated vinyl with open-valve system.
---

If we may assist you in any way or if you have questions related to the neck roll pillows, please feel free to Contact Us.