Neck Pillow Store

Neck Roll Pillow
Neck Roll Pillow with Memory Foam and Hot/Cold Therapy
The Neck Roll Pillow has been used for many years to provide a contour to support the natural cervical spine curve while lying on the back. This neck roll pillow is unique in that it has an option to provide a microwavable heat pack insert which can also be frozen and used as a cold pack, and the pillow is made of a non allergenic and healthy memory foam.
The memory foam in the neck roll pillow is temperature sensitive and conforms to the shape of your neck. When the heat pack is used, the memory foam helps retain the heat and also allows more molding to your neck, while the cold pack can be used for recent injuries to decrease swelling or as a cooling pillow as the memory foam responds by providing more support.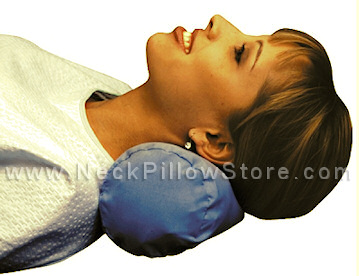 The unique properties of the neck roll pillow make it very therapeutic and it measures a generous 5" x 14" which makes it a great travel pillow! Additionally, it can be used as a back support pillow for driving or just lounging. The Hot/Cold Gel Pack measures 8" x 4" and is non-toxic and biodegradable.
This is the most popular of our neck roll pillows. The neck roll pillow is great for relieving headaches and neck pain from sore muscles. The soothing heat increases circulation to tired and overworked muscles and the therapeutic cold helps cool and reduce inflammation, while the memory foam gives a soft, comfortable support.
The washable cotton/ploy pillow case is easily removable with zipper and provides access to the hot/cold pack insert.
The neck roll pillow memory foam is high quality memory foam with superior performance properties.
The Neck Roll Pillow comes with the cover included and with or without the non-toxic hot/cold gel pack insert.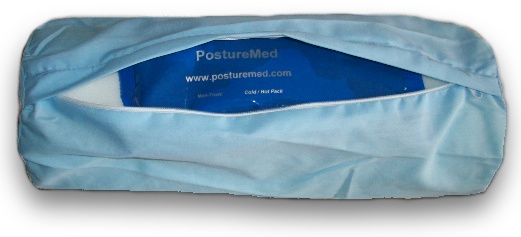 We have replacement covers for the neck roll pillow.

We also have replacement or additional non-toxic Hot/Cold Flexible Gel Packs
Instructions for Hot and Cold Gel Pack use with the Neck Roll Pillow:
COLD
Unzip neck roll pillow cover and remove gel pack. Place gel pack in freezer until desired temperature. Gel pack may be kept in freezer until needed. Place cold gel pack inside pillow and zip it up.
HEAT
Unzip neck roll pillow cover and remove gel pack. Place in microwave on lowest setting for 30 seconds. Mix contents and repeat if necessary. Gel pack should be warm to the touch. Place in neck roll and zip it up.
Extreme Caution: Care should be taken when using the gel pack with heat as the gel will provide heat and if too hot could burn your skin. Check gel pack before being applied to the body. Make sure the gel pack feels Warm and not Hot.
If we may assist you in any way or if you have questions related to the neck roll pillow, please feel free to Contact Us.