Neck Pillow Store

Neck Exercises

Neck Exerciser
Fast, easy and effective neck exerciser to restore normal strength and function in the neck
Neck exercises are one of the most important and effective ways to help neck pain and stiffness and the neck exerciser can help. Over the years poor posture can result in weak muscles which causes improper alignment of the neck bones and can lead to degenerative changes resulting in arthritis and make your neck prone to injury from sprain and strain. This is very often the case with the forward head posture. While the specific neck exercises to correct this problem can be done without this device, I find that people are much more likely to perform them with the neck exerciser.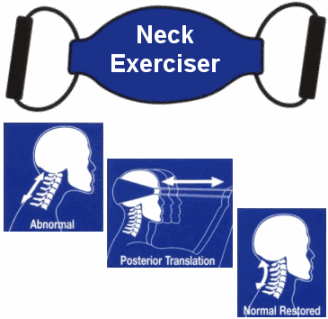 Probably the single most important home treatment for neck pain are exercises. The neck exerciser is outstanding at assisting the performance of a specific exercise to correct the forward head posture. Results are often fast and dramatic.
Place the Neck Exerciser behind your head. Grip the soft foam handles with both hands. While maintaining a level head position, slowly extend and straighten both arms at eye level. Hold for 5-10 seconds then return to start position and repeat.
The neck exerciser is a unique and practical piece of equipment designed to restore normal biomechanical function, strengthen and stabilize the neck. It uses isokinetic resistance to facilitate backward head translation restoring correct neck posture.
Minimizes general neck pain and prevents arthritis. Transforms the neck from the inside out even for a decade old problem.

If we may assist you in any way or if you have questions related to the neck exerciser, please feel free to Contact Us.