Neck Pillow Store

Neck Arthritis Pillow
Neck Arthritis Pillow may help aid in relief of arthritis pain while resting
The neck arthritis pillow has a multi channel design engineered to allow you to choose the support level needed and limit fiber migration. This design helps relieve spasms, alleviate minor tensions and maintain or restore the natural neck posture curve to aid in relief of arthritis while at rest.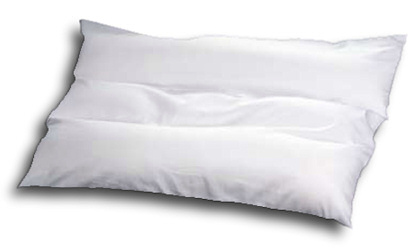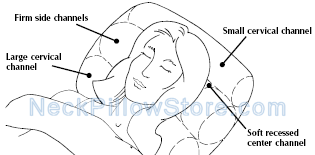 The recessed center of the neck arthritis pillow provides maximum comfort and flexibility. When sleeping on your back, the center cradles your head to support your neck in its most natural posture. As you roll from your back to one side, the raised side channels provide the proper support to gently hold your neck in a comfortable position.
By supporting your head and neck in a proper sleeping posture, the neck arthritis pillow can help relieve pain from neck injuries and prevent airway blockage (a major cause of snoring). Most people experience an increase in sleeping comfort within a couple of days. Others may require up to two weeks before the neck and back muscles adjust to their proper position.
For back sleeping, start by using the smaller channel. After several weeks, turn the pillow around and use the larger channel, if needed. For side sleeping, use the side channels.
The recessed center of this pillow cradles your head to provide the maximum support for your neck. The five fiber channels allow you to choose the support level you need, making this a long-lasting and popular neck pillow.
Helps Relieve:
Tension headaches
Neck muscle and joint sprains and strains
Ligament sprains
Whiplash injuries
Arthritis and rheumatoid arthritis

Back Sleeping:
Supports your neck in its natural posture
Provides support from smaller channel, extra support from larger channel

Side Sleeping:
Provides side sleeping comfort from either side channel.

Pillow measures 27 x 18" (58x46cm) and comes in a gentle support or standard (firmer) support. We suggest choosing the gentle support for better comfort.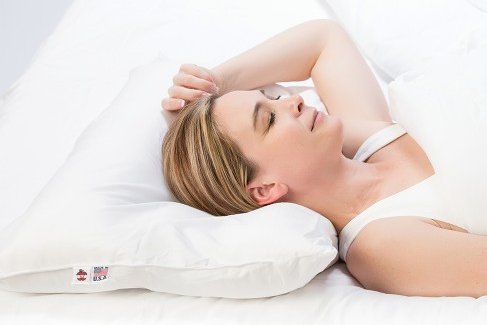 If we may assist you in any way or if you have questions related to the neck arthritis pillow, please feel free to Contact Us.