Neck Pillow Store

Back Supports

Ergonomic Backpacks

Mesh Backpack
Our mesh backpack is see through and meets all visibility requirements
Our Mesh Backpack meets visibility requirements. Fits average-sized middle school students and most adults 5' and taller who measure 15" or more from the top of the shoulders to the natural waist. 1850 cubic inches.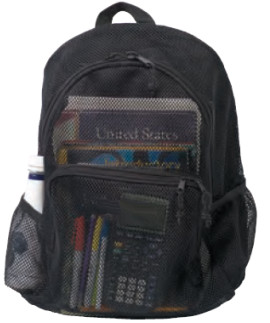 The Mesh backpack is designed to allow you to see through to the contents of the backpack without opening it. For security reasons, more schools are requiring students use a backpack that reveals the content.
The Mesh fits any larger-sized elementary school, average-sized middle school, high school and college student or adult.
Physicians recommend that students carry no more than 15% of their body weight on their shoulders and backs, yet studies show younger students are lugging as much as 40% each day.
Ergonomic design features include: patented lumbar air cushion and wider shoulder straps adjustable both top and bottom that automatically adjust side-to-side to help maintain correct ergonomic support.
Other features include padded haul handle, a large mesh interior compartment for heavier books and notebooks, a mesh front pocket for pens and pencils (even a handy key keeper, CD player pocket and headphone port), two side mesh pockets, and a new detachable cell phone/mp3 holder.
Made of durable polyester mesh. The Mesh backpack is available only in black. Dimensions: 17.5" x 12.5" x 9" (44cm x 32cm x 23cm). Capacity: 1850 cubic inches. Mini air pump included.
Care Instructions: Hand wash with mild soap or wipe with damp wash cloth. Air dry, machine wash and dry is not recommended.
See-through mesh material reveals content without opening the pack.
Patented air technology reduces stress on back by up to 80%, lightens effective load by 50%.
Transfers weight from shoulders to lower back for revolutionary comfort and support.
Recommended by the Congress of Chiropractic State Associations.
1850 cubic inch capacity, fits most individuals 5' and taller or who measure 15" or more from the top of the shoulder to the natural waist.

If you have questions related to our mesh backpack, please feel free to contact Customer Service.