Neck Pillow Store

Memory Foam Pillows
Memory Foam Pillows conform to head and neck posture shape helping to reduce tossing and turning
Memory foam pillows have a type of flexible foam commonly called viscoelastic or slow foam. Visco-Elastic Memory Foam is a revolutionary open cell space-age foam developed for NASA in the early 60s. The unique properties continually adjust and mold to the weight and shape of your head. Memory foam pillows dramatically minimize pressure points to reduce tossing and turning and significantly improve circulation, and reducing pain and discomfort associated with disruptive sleep.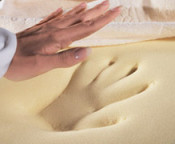 A key feature of memory foam pillows are the visco foam, which is slow with high damping. One of the main characteristics noted in quality memory foam pillows is very low resilience or lack of spring. If you sink your hand into viscoelastic foam, it leaves an indentation which disappears gradually. Conventional high resilience foam pillows are two dimensional (density and hardness can be varied) whereas viscoelastic memory foam pillows are four dimensional, with hardness, density, temperature and time effects.
Memory foam pillows have very slow recovery characteristics and conform to head and neck posture shape. Most flexible foams are more lively, highly resilient and bouncy. Viscoelastic memory foam pillows become more lively as they warm providing a slow recovery, soft but supportive pillow, which is also temperature sensitive in the indentation hardness. The low indentation hardness of memory foam pillows allow the head to sink deeply into the foam, while still maintaining the firm feel of a good quality resilient foam.
Viscoelastic foam is formulated to give a certain low resilience and hardness at 68°F. If the temperature drops, the memory foam gets very hard. If you want to see a pillow is really viscoelastic, put it in the freezer to see if it hardens. Above about 80°F, the memory foam gets softer and this temperature dependence is the reason the foam is used in applications like hospital beds. With standard foam pillows, hardness at room temperature will be the same if the temperature is raised or dropped.
Memory foam pillows allow moisture to dissipate, which is good for arthritic conditions and for reducing skin irritation.
Memory Foam Pillow

Our memory foam pillow will help to stabilize an existing condition and provide special comfort.
Memory Foam Pillow Details

Inflatable Memory Pillow

Uses a hand held bulb that you control to adjust the memory foam air pressure for a custom neck support!
Inflatable Memory Pillow Details

Side Sleeper Pillow

Advanced design with memory foam in the side sleeper makes this one of our most popular pillows!
Side Sleeper Pillow Details
Contour Neck Pillow

A combination of memory and therapeutic foam gives the contour pillow support and comfort!

Contour Neck Pillow Details

Neck Roll Pillow

Neck roll pillow uses memory foam for comfort and a microwavable hot/cold pack for pain relief!

Neck Roll Pillow Details
Pillow Pedic

Combining memory foam and soft fiber designed for neck pain relief with 4-way support!

Pillow Pedic Details

PostureMed Pillow

Soft and comforting to help relieve tension and neck pain - * Most popular pillow of any type.
PostureMed Pillow Details