Neck Pillow Store

Memory Foam Pillow
The memory foam pillow responds to your body heat to better conform to the shape of your head and neck
The memory foam pillow molds to the unique shape of your head and neck to provide custom support. Includes a removable plush fabric cover. No one should be without this type of foam pillow. The unique contour and memory function allows a custom fit. This pillow often provides neck pain relief and a better night sleep when others fail. It comes in 2 sizes and is designed to help stabilize an existing neck condition and provide comfort for special sleeping needs.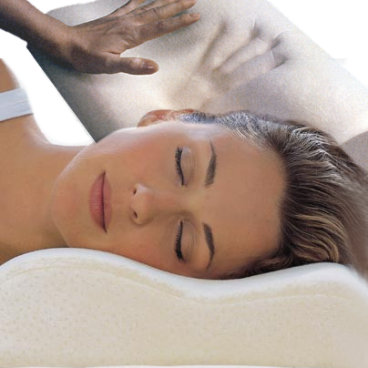 Memory foam makes a great pillow. When you get warm, the pillow contour changes and cradles your head and neck. When you wake up refreshed, the pillow cools, and returns back to its original shape. This technology was originally developed for astronauts on long space journeys.
If you have never slept on "Memory Foam" before, you don't know what you are missing.
Viscoelastic foam, or "Memory Foam" is a special material which actually molds to the unique shape of your head and neck to provide custom support. At the same time it allows heat to dissipate, preventing "hot spots" from forming - which cause you to toss and turn at night. The less you toss and turn, the deeper you sleep and the more rested you feel when you wake up in the morning.
If you have tried Memory Foam and are looking for a new pillow, you will find that this high-quality dense Memory Foam pillow is comparable to the more expensive memory foam pillows and offers great support and an incredible night's sleep. More about our memory foam neck pillow.
We use only the best quality and technology available on the market today. The density of our memory foam pillow is unique and is a trade secret. It has excellent body-temperature sensitivity (molds to shape) and body-weight absorption (molds rather than pushes back) with ideal firmness and an ergonomically optimal blend of foam properties and pillow shape.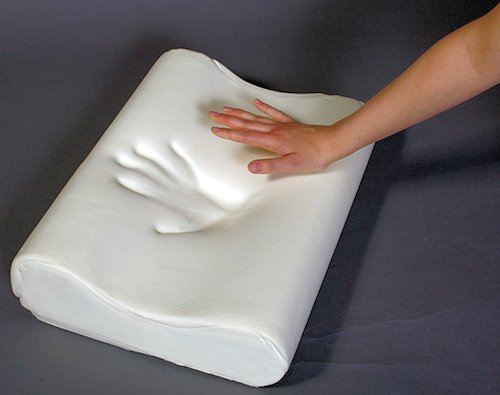 Includes a removable soft ivory pillow case. Available in Full-size (14" x 19", Contour Lobes 4" & 5") and Mid-size (12" x 19", Contour Lobes 3" & 4").
If we may assist you in any way or if you have questions related to the memory foam pillow, please feel free to Contact Us.


Contour Pillow