Neck Pillow Store

Memory Foam Pillow

Memory Foam Neck Pillow
Our memory foam neck pillow uses pressure relieving material has the ability to perfectly conform to your unique shape, with your neck and spine in perfect alignment
The memory foam material seems to know exactly how far to let your head sink in the pillow so that every contour of your body is supported in comfort.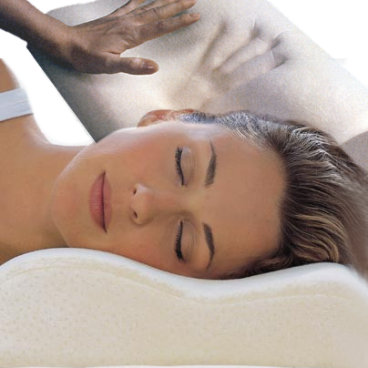 The memory foam pillow is the most advanced contoured neck pillow you can use. Designed to provide your neck and head with continuous, comfortable support, it reduces stiff necks, shoulders, and upper back pain by ensuring correct neck alignment and a proper sleeping posture allowing your neck muscles to relax. The contoured design provides maximum neck support.
The material is viscoelastic memory foam which provides a custom mold. Memory Foam responds to your weight and warmth, keeping your neck and head in alignment with the spine, creating full support and the ultimate in comfort. No more tossing and turning during the night. Provides support whether you're on your side or back.
Cleaning and Care: Do not wash the Memory Foam Neck Pillow. Provided pillow cover is washable. If the pillow gets wet, gently twist it to squeeze out excess water. Allow the memory foam pillow to dry in a well-ventilated area until it is completely dry.
Your memory foam neck pillow may change color over time due to the exposure to light and air. The color may vary from yellow to light brown. This is perfectly normal.
Why are Memory Foam pillows the most popular pillows we sell? It uses the Visco-elastic Memory Foam Technology developed by NASA to sense your body's weight and temperature and then gently conform to your shape to minimize pressure points and reduce tossing and turning.
The material in our "space age" advanced memory foam neck pillow were originally developed for NASA. The memory foam neck pillow is temperature sensitive - your body heat interacts with the visco elastic and gently contours and molds to your neck and head. The foam pillows provide superior comfort that reduces stress and pressure to provide more restful sleep.
Heat responsive visco elastic memory foam molds to accommodate the shoulder's natural curve to keep the spine in correct alignment, and allowing muscles and ligaments to relax creating optimum comfort while sleeping.
Includes a removable soft ivory pillow case. Available in Full-size (14" x 19", Contour Lobes 4" & 5") and Mid-size (12" x 19", Contour Lobes 3" & 4").

More details about our memory foam pillow
Memory Foam Neck Pillow Rating



View All Pillow Ratings
If we may assist you in any way or if you have questions related to the memory foam neck pillow, please feel free to Contact Us.


Contour Pillow