Neck Pillow Store

Inflatable Pillows

Inflatable Pillow
Our inflatable pillow is covered with memory foam and adjustable for the ultimate in comfort and support
By layering premium memory foam on a therapeutic foam base and adding the adjustability of air, the Inflatable Pillow becomes the perfect neck pillow for memory foam lovers who need greater neck support with adjustable comfort.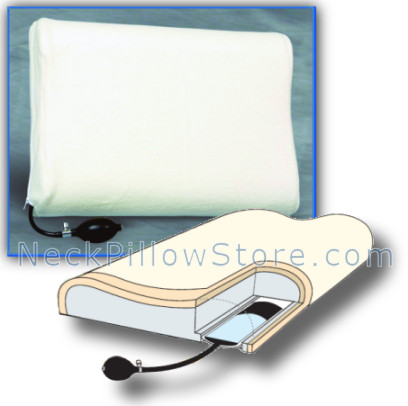 The Inflatable Pillow with its resilient, precision cut foam base and adjustable air chamber offers therapeutic neck support, the accommodating top layer of memory foam conforms to your head for a soothing, customized fit.
With the memory foam layer and adjustable air pump, the inflatable pillow helps restore the natural curve of the neck reducing neck, shoulder and back pain, and alleviating the symptoms of tension headaches and arthritis discomforts. You'll reap benefits of improved sleeping posture, into the maintain stage, helping ensure long-term health.
The Inflatable Pillow measures 19.5" x 14" (48 cm x 36 cm) surface which lends added comfort, while the height is adjustable at the neck from 3 " to 5" allowing you to further customize the level of support. Covered with a removable plush fabric cover for even more soothing comfort. 18" x 14" (46 cm x 33 cm).
Adjustability with the squeeze of a hand pump.



Premium memory foam layer for extra comfort.



Precision-cut foam base provide added cervical, neck support.



Soft, removable plush cover.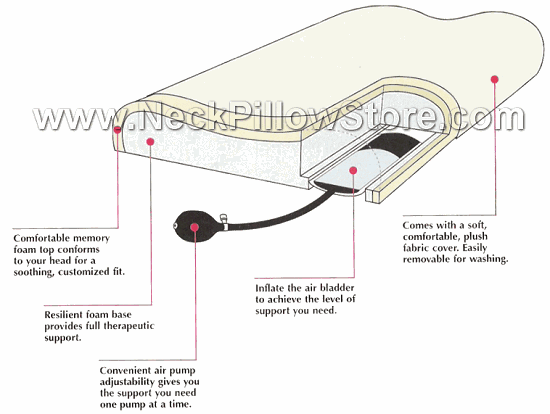 Please note: This is a special order pillow, please allow approximately 2 weeks for delivery.

Inflatable Pillow Rating



View All Pillow Ratings
If we may assist you in any way or if you have questions related to the inflatable pillow, please feel free to contact Customer Service. Browse our complete selection of Inflatable Pillows.