Neck Pillow Store

Inflatable Pillows

Inflatable Neck Pillow
The inflatable neck pillow uses an air pump to adjust firmness which gives you great support with a simple squeeze of the pump
This Pillow has convenient air pump adjustability that gives you the support you need with a simple squeeze of the pump. The second lobe provides traditional fiber support. Reduce or eliminate the time needed to adjust to a cervical pillow.
Only the small neck portion is inflatable.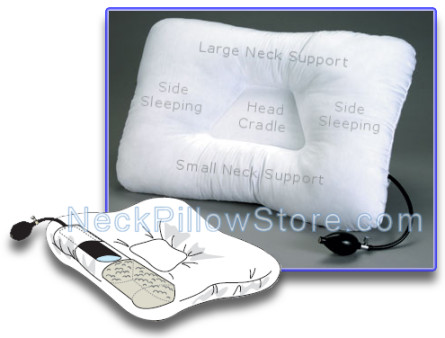 Our premier, fiber-filled support pillow is the highest quality cervical support pillow available. As you sleep, this pillow cradles your neck in its most natural and neutral position. The down-like feel of this pillow provides lasting freshness, excellent support and superior pillow life. Get all the benefits of our Neck Support Pillow with convenient air pump adjustability.
This is a hand-crafted, allergen-free, superior quality iflatable pillow which helps relieve headaches, joint strains, neck pain, arthritis and many report a decrease in snoring by opening up obstructed airways due to the precise level of adjustability set to your unique requirements.
Give yourself the support you need with a simple squeeze of the pump. Because the inflatable neck pillow is filled with the premier pillow fiber available today, it is now possible to enjoy all of the comfort of a top line pillow with the positive advantages of proper neck support that you control. Designed for either back or side sleeping, it is so comfortable that we're sure you will sleep on it every night. Size is 24"x16"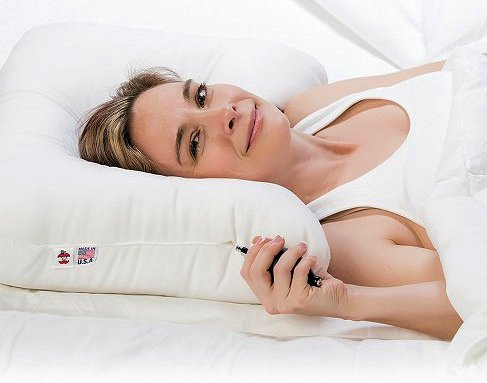 If we may assist you in any way or if you have questions related to the inflatable neck pillow, please feel free to contact Customer Service. Browse our complete selection of Inflatable Pillows.