Neck Pillow Store

Neck Wraps

Hot and Cold Neck Wrap
Hot Cold Neck Wrap Delivers Relief
Relief from strains, sprains, tendonitis and other injuries. Unique strapping system securely fastens anywhere on these hot and cold neck wraps. Non-toxic gel is biodegradable and retains therapeutic temperatures longer. Soft, plush "frost-free" cover protects your skin. Store in the freezer; stays soft and pliable. Heat in microwave.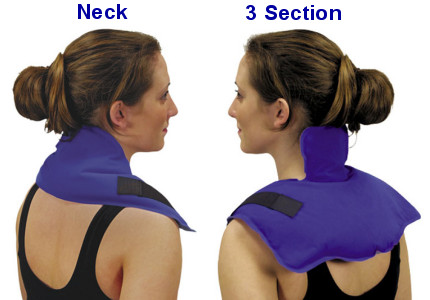 Dynamic duo: hot and cold in one great neck wrap.
Cold therapy works by constricting blood vessels, resulting in a decrease in blood flow to the area of application. This helps to decrease swelling and promote healing. Hot therapy increases blood flow to the area to help relax muscles and decrease pain. Put them together and you've got a lot of natural healing at your disposal for relieving sprains, strains, tendinitis and other injuries, as well as stiffness and poor circulation.
This combination hold and cold neck wrap is a great pain management system.
Two frost free surfaces and a unique strapping system provide therapeutic hot and cold temperatures with secure positioning. The plush surface provides a slow release treatment, while the rapid release surface delivers quicker results with either hot or cold. Microwave or conveniently store in freezer, where the Hot and Cold Neck wrap will stay soft and pliable. Available in 2 sizes: neck and 3 section shape that's perfect for the neck and shoulders.
Knead the hot and cold neck wrap after each heating. Microwave ovens vary; use care when heating and removing pack from microwave. Overheating pack may cause pack to rupture and/or leak. Carefully check the pack with the palm of your hand before applying. Discard pack if punctured or broken.
Heat 30 seconds on high heat, knead, and then continue heating at 10 second intervals until desired temperature is reached.
Hot and Cold Neck Wrap measures 6 x 20" and the 3 Section measures 9 x 16"

If we may assist you in any way or if you have questions related to the hot and cold neck wraps, please feel free to Contact Us.