Neck Pillow Store

Herbal Neck Wrap
Herbal Neck Wrap provides healing herbs with heat and good support
Our Herbal Neck Wrap is perfect for the neck as well as the base of the skull.
Versatile and convenient, the herbal neck wrap has straps that can be adjusted and you can use it sitting, standing or lying down. Can be used by heating it in the microwave or cooling it in the freezer, this herbal neck wrap helps with inflammation from injuries, or to aid in relaxation of sore and stiff muscles.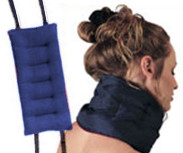 The Herbal Neck Wrap is made with top quality materials that last longer and hold heat and cold better while safely and effectively producing an intense therapeutic result.
The Herbal Neck Wrap easily heats in the microwave oven in only minutes. It provides moist heat along with aromatherapy for up to 45 minutes. You can re-heat it again and again. Ease painful muscular tissue as well as warming up on cold evenings.
Keep the Herbal Neck Wrap within the freezer in its plastic bag and it will get cool. Remove and use the beneficial cooling effects for up to 25 minutes as it will stay soft and comforting. No messy gels to worry about leaking.
The Neck Wrap uses a fleece side for heat on the tissues and a less porous material on the other side to help maintain heat for longer periods of time.
Herbs which stimulate circulation help to remove toxic substances from tissues and minimize inflammation for alleviation of painful artritic conditions and headaches. While it contains herbs for pain relief, it is also relaxing and works to ease stress.
The Herbal Neck Wrap is filled with a blend of aromatic herbs and rice that can relieve pain and stiffness in muscles and joints & increase circulation. The original two-sided design includes a soft, comforting fleece surface for moist heat application and a smooth cordura surface for dry transfer of cold therapy. Measures 7" X 17" and secures with four 15" laces.
Juniper
Relax Muscular Spasm
Allspice
Relax and Relieve
Ginger
Helps Joint Pain
Cloves
Sedates and Relieves
Mustard Seeds
Blood flow & Detox
Black Pepper
Blood flow stimulant
Use Hot or Cold.
Quickly Heated in Microwave.
Stays Hot 30-45 Minutes.
Stays Cold 25-30 Minutes.
Stays Dry and Pliable When Frozen.
Provides Penetrating Moist Heat.
Provides Gentle Acupressure And Healing Aromatherapy.
Stays in place while walking, standing or sitting.

If we may assist you in any way or if you have questions related to the herbal neck wrap, please feel free to Contact Us.
related product



neck shoulder wrap