Neck Pillow Store

Neck Wraps

Heated Neck Wrap
Heated Neck Wrap soothes and comforts neck muscles
Hot or Cold therapy for your aching neck. The flexible body conforming Neck Wrap has a glycerin/water-based gel that brings soothing comfort to the tension areas of your neck.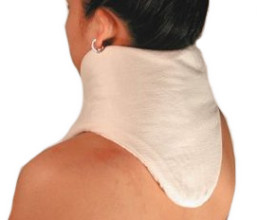 Microwave 2 minutes for heat therapy. Secures with Velcro straps for freedom of movement and thorough contact. Special non-toxic solid gel cannot leak and is covered with a washable cotton twill fabric.
The heated neck wrap is great for hot therapy but also allows freezing for 30 minutes to work as a cold pack for cool off or helping to heal neck injuries.
How would you like to arrive at your next work out or game with your neck and shoulders ready to move and perform without injury? The Heated Neck Wrap warms up your muscles before you even stretch out, allowing you to perform better and also reducing the likelihood of injury.
Simply place the heated neck wrap in the microwave for about two minutes, place it on, and go to your activity. During transit, your neck receives a soothing moist heat therapy treatment which not only feels great, but actually increases blood flow to muscles, ligaments, nerves, and tendons. By the time you arrive you'll be loose and ready to go. All your friends will want to know why your game has improved so drastically. And your neck will feel better than it has in years.
Besides being a warm up aid, the heated neck wrap makes a great hot/cold therapy pack, proving instant pain relief for anything from muscle pulls and swollen joints to arthritis. Whether you need soothing moist heat or cold compression therapy, the heated neck wrap can help. It stays completely flexible and adjustable when frozen.
Convenient Effective Versatile
Soothing Heated Neck Wrap Therapy
Loosens Neck Muscles
Improves Performance
Microwavable Heats Up In Only 2 Minutes
Wear On The Way to Your Work Out
Can Be Used Anywhere
Freeze for Flexible Cold Therapy
Durable, versatile, and convenient, the heated neck wrap is one of the best things you can do for your neck. The solid gel can't leak, even if punctured. Made in Natural unbleached brushed cotton with a sturdy buckle, it'll last a lifetime. To give yourself the care you deserve, get a Heated Neck Wrap.

If we may assist you in any way or if you have questions related to the heated neck wrap, please feel free to Contact Us.