Neck Pillow Store

Future Memory Foam Pillow
A non toxic, odor free and non allergenic memory foam pillow - The future is here!
| | |
| --- | --- |
| | The Future Memory Foam Pillow allows those who could not use traditional memory foam due to chemical allergies or those who are sensitive to the odor produced by a conventional foam pillow to finally get the comfort and support they need. |
Benefits of the Future Memory Foam Pillow
Low Emissions (VOC's)
Made without BPA
Made without Phtalate
Made without Ozone Depleters
Made without Formaldehyde
Made without Methylene Chloride
Made without Mercury, Lead & Heavy Metals
Made without BHT
Made without CFC's, HCFC's & PFC's
Made without PBDE
Emissions Tested
Performance Tested
The CertiPUR-US seal indicates the memory foam in your pillow has been tested and certified to meet specific criteria for physical performance, indoor emissions and environmental stewardship.

Stay Fresh Technology indicates the future memory foam is hypo-allergenic and non-toxic. This technology reduces the harsh chemical odor associated with memory foam products and uses pure baking soda to maintain freshness and will not absorb odors.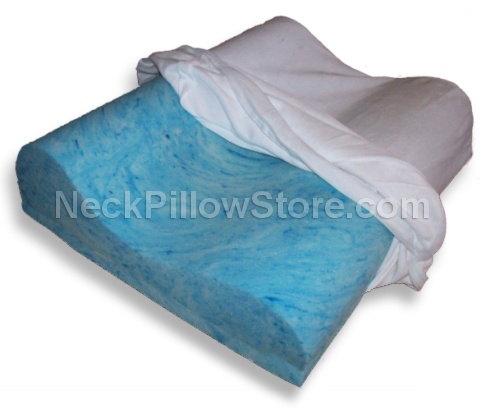 The unique properties of the Future Memory Foam Pillow gives improved support, greater pressure point relief and superior weight distribution and durability over standard memory foam pillows. As compression increases, the Future Memory Foam Pillow improves thermoconductivity to remove heat more efficiently. The open cell design supports air and moisture movement creating a cooler night's sleep and improved blood flow and oxygen exposure to skin cells.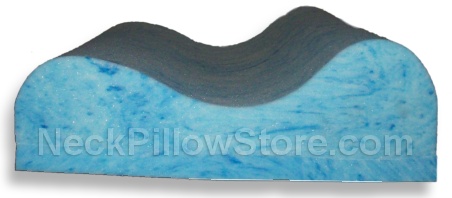 The Future Memory Foam Pillow has 2 different contours or lobes to keep the neck in proper posture. The large contour measures 5 inches and the small contour measures 4 inches. The dimensions of the pillow are measures 20" L x 15". A great level of comfort and support is achieved by using a medium firmness density that accommodates your personal features as the memory foam surrounds your head and neck. Designed for both back and side sleeping. Includes pillow cover.

The Future Memory Foam Pillow is designed to improve heat conductivity. Using an open cell design, air can move faster throughout the foam while removing heat at the same time. The support is better than traditional memory foam pillows. The superior weight distribution and durability of the pillow allows for improved pressure point relief and increased support for your unique needs of the head and neck areas.
The pillow comes with a cover that is soft and soothing using 80% cotton and is zippered for easy removal when cleaning. It is not necessary to use a cover over it, although you can if you like and it will extend the life of the cover. Replacement covers are available! Both the pillow and the cover a washable. The cover can be removed, washed in warm water and tumbled dry. The pillow can be washed by hand in luke warm water using a mild, low suds detergent. Rinse thoroughly gently squeezing pillow. Dry at room temperature away from direct sunlight and heat.

The Future Memory Foam Pillow is an exceptional pillow in both performance for comfort, non toxic and non allergenic for optimal health. Made in the USA, it is better than many similar memory foam pillows that cost almost double the price! With Free Shipping for the continental US, it is a great deal!
The Future Memory Foam Pillow has a comfortable cover and additional covers are readily available. If you enjoy sleeping on the original pillow cover, the cover is washable and care should be taken regarding shrinkage due to the 80% cotton.

Future Memory Foam Pillow Rating



View All Pillow Ratings
We have combined the Future Memory Foam Pillow with the Body Pillow in a package which saves almost $20.00 from purchasing each item individually. The Future Foam Memory Pillow and the Teardrop Memory Foam Body Pillow are two of our most popular pillows and compliment each other with superior support and healh for great side and back sleeping.


Side Sleeping Pillow Package
If we may assist you in any way or if you have questions related to the Future Memory Foam Pillow, please feel free to Contact Us.