Neck Pillow Store

Future Memory Foam Pillow
The Future Memory Foam Pillow Is Non-Toxic & Non-Allergenic
| | |
| --- | --- |
| | The Future Memory Foam Pillow allows individuals that have problems using traditional memory foam because of allergies as well as sensitivity to the odor produced by a conventional foam pillow to finally get the comfort and support they need. |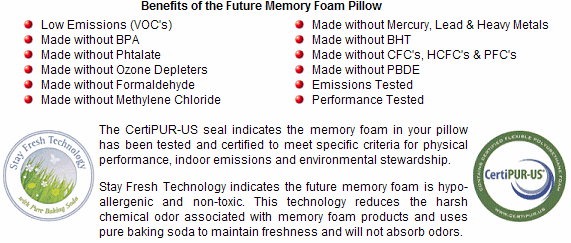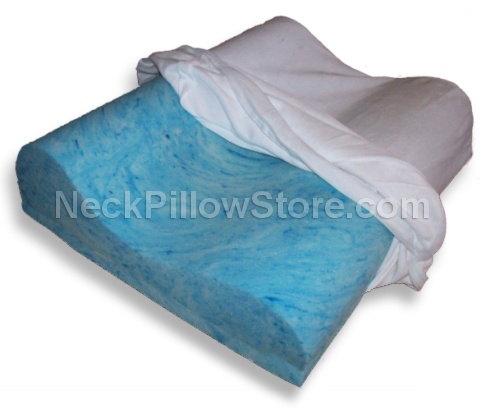 The unique properties of the Future Memory Foam Pillow increased pressure-point alleviation as well as outstanding weight dispersal and sturdiness above conventional memory pillows. When pressure raises, the Future Memory Foam Pillow enhances thermo-conductivity to eliminate heat more proficiently. The open structure facilitates air flow as well as dampness motion creating a cooler night of sleeping and also enhanced blood flow as well as oxygen exposure to pores and skin tissue.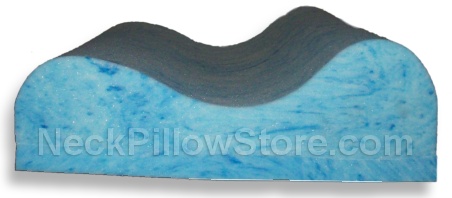 The Future Memory Foam Pillow has 2 different contours or lobes to maintain correct positioning of the head and neck. Measuring 20 by 15 inches with lobe heights of 4 and 5 inches. A great level of support and comfort is obtained employing a soft-medium density, conforming to your specific anatomical needs by encompassing your neck as well as head in healthy comfort. Made for use in back as well as side sleepers. Includes pillow cover.

The Pillow improves the conduction of warmth. Utilizing open-cell properties, airflow is improved through the pillow, eliminating excessive heat build-up. The level of support exceeds most memory based foam pillows. Offering oprimal distribution of weight as well as durability permits a decrease in negative pressure, while increasing support for your unique needs.
The pillow includes a cover that's gentle as well as comforting utilizing 80 percent all-natural cotton fabric and also has a zipper for convenient removing whenever washing. There is no need to utilize a cover on top of it, although you may if you'd prefer and this will prolong the life span of the pillow. Replacing covers can be obtained! and the . The cover can be taken off, cleaned within tepid to warm water as well as tumbled dry. The actual pillow can be cleaned by hand with not too hot or cold using a gentle, minimal suds soap. Rinse out completely carefully compressing pillow. Dry out at 70 degrees away from sunlight as well as heat.

This is an exceptional pillow in both performance for comfort, not toxic and hypoallergenic for optimal overall health. Manufactured in the United States, it is better than many similar memory foam pillows that cost almost double the price!
Comes with a comforting pillowcover with replacemets available if needed.

Future Memory Foam Pillow Rated



View All Pillow Ratings
We have combined the Future Memory Foam Pillow with the Body Pillow in a package which saves almost $20.00 from individually buying. The Future Foam Memory Pillow and the Body Pillow are 2 of the most popular and will compliment eachother with support and health.


Side Sleeping Pillow Package
If we may assist you in any way or if you have questions related to the Future Memory Foam Pillow, please feel free to Contact Us.