Neck Pillow Store

Eye Pillow
The Eye Pillow is Great for Sinuses, Rest, Relaxation, Yoga and Sleep
Our Eye Pillow offers the ultimate in relaxation! The satin eye is pillow filled with an aromatic herbal blend that will open your sinuses and help you fall asleep faster.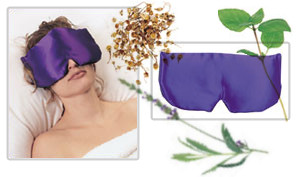 The eye pillow provides relief from headaches, insomnia and sinus discomfort as well as providing a welcome relief for those suffering from tired or puffy eyes.
The eye pillow is filled with an aromatic blend of herbs including lavender and made of a luxurious satin, it relieves puffiness and tension by combining gentle, cooling acupressure with aromatherapy.
If you spend long hours in front of a computer or read alot then the eye pillow will help soothe your tired eyes. If your stress levels are high and you suffer from migraine or tension headaches, the eye pillow with lavender will help ease the discomfort.
The eye pillow provides an aromatic herbal blend to open your sinuses while its soothing cold therapy relieves muscle tension in the forehead and around the eyes and helps reduce inflammation, irritation and swelling around the eyes.
LAVENDER - Sweet, calming, soothing, balancing, analgesic, antidepressant.
BASIL - Mentally clarifying, antispasmodic, treats respiratory ills.
MARJORAM - Analgesic, sedative, eases respiration.
PEPPERMINT - Cooling, soothing, decongestant.
ROSEMARY - Analgesic, relaxant, reduces mental fatigue, increases circulation, eases headaches.
CHAMOMILE - Soothing, calming, promotes "dream" state of mind, anti-inflammatory.
Lavender offers a subtle pleasant aroma that is relaxing, calming and soothing. Normally within minutes you are able to drift off into a deep sleep.

Ideal for:
Naps
Yoga
Travel
Nightly Use
Our eye pillow with lavender is made of satin and is filled perfectly so it contours to the shape of your face. The eye pillow is to be used as Cold Therapy only and should be stored in your freezer. Weighs approximately 1 pound.

If we may assist you in any way or if you have questions related to the Eye Pillow, please feel free to Contact Us.