Neck Pillow Store

Cooling Pillow
Cooling Pillow with reusable cold pack insert helps relieve headaches and neck pain - great for travel
The Cooling Pillow recently earned the Health & Wellness Seal of Approval from the National Health and Wellness Club. The pillow scored high in ease of use, quality and performance.
Our cooling pillow features time honored and medically recommended cold therapy treatment for migraine and tension headaches. It uses a specially designed u-shaped cold pack insert for ice therapy. Also helps pinched nerves, stiffness, sprains, neck injuries or other traumas. Great as a travel pillow, especially during hot weather as it helps with cooling the neck. Use for sleeping or reading. The cold gel pack is removable and additional packs are available along with a pillowcase
Great package for migraine headache, tension headache and neck pain or to use as ice application to relieve pain from inflammation. The cooling pillow provides a great method to apply ice/cold therapy to the neck area and is great to use as a travel pillow.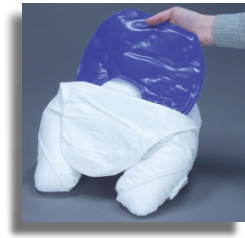 Now you can treat headaches using a natural and proven alternative to drugs or medication. The Cooling Pillow uses time-honored and medically recommended cold therapy in treating dull, moderate and severe headaches,like migraine and tension headaches.
This pillow uses a unique, compact design to help relieve headaches by providing support to your neck while sleeping or resting. An anatomically designed, soft gel pack can be cooled and inserted into the pillow for added relief. Great for travel, reading or sleeping, this pillow also can provide relief from pinched nerves, stiffness, sprains, neck injuries or other traumas. The gel pack stores in your freezer or refrigerator until needed.
Clinically proven to relieve headaches, this pillow was shown to categorically help nearly 80% of uses by the American Association For The Study Of Headaches.
The cold pack fits the Cooling Pillow to help provide relief from headaches and neck injuries with inflammation. The reusable cold pack can also be used elsewhere on the body to help provide cold therapy for strains/sprains and other injuries.
Care Instructions: Wipe all moisture off the pack before returning it to the freezer or refrigerator. Do not fold the cold pack for storage in the freezer. This cold pack is most serviceable when kept at 12° F (-11° C).
Wrap the cooling gel pack in a cover to use elsewhere on your body. Store in the freezer until needed; stays soft and pliable.

If we may assist you in any way or if you have questions related to the cooling pillow, please feel free to Contact Us.