Neck Pillow Store

Travel Pillows

Contour Travel Pillow
Contour Travel Pillow designed for women with it's luxurious satin cover, gentle on the complexion and hair styles while offering full support
Designed to provide help for neck pain, the contour travel pillow has a contour shape at the end to support the neck in correct posture which may help to relieve sore neck muscles and tension headaches.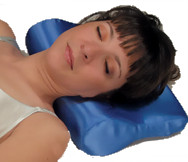 The contour travel pillow is covered with a luxurious satin cover that is gentle on your face and hair, the compact size of this contoured foam pillow makes it a great traveling companion.
This is a nicely constructed travel pillow revealing a contour with precision cut, high quality foam for durability and comfort.
A very popular contour pillow, this travel companion for the neck can soothe your face with a contoured satin cover which is designed to reduce wrinkles, help with complexion and keep hair styles in place while sleeping.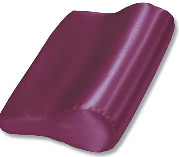 The travel pillow has a perfectly shaped contour to address conditions like tension headaches, pain from neck injuries, arthritis and airway blockage (a major cause of snoring). These are some of the conditions which may be helped with the proper sleeping posture provided by the contour travel pillow.
Another feature which makes it a great contour travel pillow is it also helps relieve sore muscles of the low back when used as a comfortable lower back support cushion while sitting.
The combination of features really comes in to play on long trips as a back support while driving and a sleeping pillow while resting. The quality foam provides lasting durability and it can even be used as a headrest on hard surfaces, although, it should be covered appropriately according to use and it will last for years.
It has a compact size (14" x 9½" with a 3½" contour roll sloping to a 1½" base). Lightweight and multiple functions make it a very good travel pillow and the contour foam with satin cover makes it a great pillow for home use too.
The contour travel and home neck and low back pillow is available in White, Burgundy, and Blue.

If we may assist you in any way or if you have questions related to the Contour Travel Pillow, please feel free to Contact Us.