Neck Pillow Store

Contour Pillow
Contour Pillow layers premium memory foam on a therapeutic foam base to create the perfect neck support pillow
A great pillow for memory foam lovers who need greater neck support, our contour pillow may be the perfect neck pillow. It has a resilient, precision cut foam base that offers therapeutic neck support while the accommodating top layer of premium memory foam conforms to your head for a soothing, customized fit.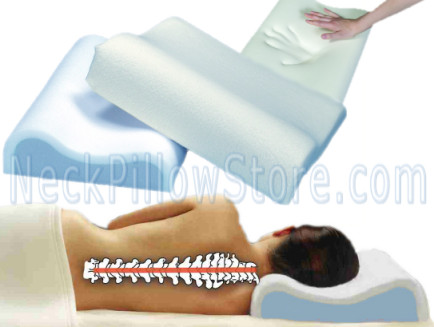 It is based on our memory foam pillow but with a combination of memory foam and therapeutic foam which helps to restore the natural curvature of the neck during long-term use as it reduces neck, shoulder and back pain and alleviating the symptoms of tension headaches and neck arthritis discomforts.
Even if you own a memory foam pillow, you can take it to the next level with our contour pillow. Due to the viscoelastic properties of memory foam, these neck pillows are generally more for comfort and flare-up stages of neck pain relief. The combination of memory and therapeutic foam in the contour pillow lets you keep the comfort of memory foam while gaining a more therapeutic advantage for support and correction of neck posture.
The Contour Pillow features support contours of two heights, 3.5" and 4.5" (11 cm and 9 cm), as further comfort and customization options. Covered with a removable plush fabric cover for even more soothing comfort. 18" x 14" (46 cm x 33 cm). Order and enjoy the comfort of this dreamy combination.
The memory foam top conforms to your head giving a soothing, customized fit. The resilient foam base provides therapeutic value. This is a very popular contour pillow and comes highly recommended. It is a great pillow containing a firmer core beneath the memory foam layer which gives more support for those who need it. If you are ready for the next level of support, try it and see how it helps neck pain!

Contour Pillow Rating



View All Pillow Ratings
If we may assist you in any way or if you have questions related to the contour pillow, please feel free to Contact Us.