Neck Pillow Store

Car Neck Pillow
The Car Neck Pillow Can Save Your Neck
The Car Neck Pillow is a revolutionary, scientifically designed, support cushion that acts as an add-on to the headrest of car seats. It is a combination headrest and back support cushion available. Recommended by prominent physicians, the car neck pillow offers firm support and promotes a relaxed posture improving comfort as well as car seat safety. Proven in independent crash tests, it helps reduce the severity and duration of whiplash neck injury in the event of a car accident. Results of test can be seen at the Add On Headrest website.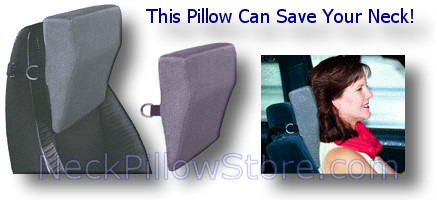 Hundreds of thousands of Americans suffer from life changing neck injuries that could have been prevented by using the Car Neck Pillow.
Today, these injuries are better known as a serious neck injury rather than whiplash. However, few of us know what this actually means. Medical research is demonstrating that what sounds like a simple sprain of the neck, can in fact involve permanent damage to joints, discs, ligaments, and nerves. In one recent study, one third of patients 17 years after their injury were still disabled, compared to 6% of people who did not have this injury. However, most of these injuries can be prevented or reduced in severity with the car neck pillow.
Who is At Risk? Car crash data suggests that thin framed people, women, taller people, and those with previous neck or back problems are at higher risk for more severe neck injury. In addition, having a poorly adjusted head restraint or one that cannot be adjusted to your head is a preventable risk factor.
What Can I do to Protect Myself? Taking a few minutes to adjust your head restraint if you have a good one or using the car neck pillow if you do not may prevent a lifetime of disability. Understanding the occupant positions that can cause more injury is another way to protect you and your family.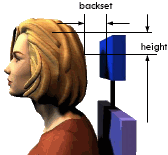 Step 1: Adjusting the Height of Your Carís Head Restraint: A low head restraint can cause injury as the head pivots over the top in a rear-end crash. The first step is to ensure that your head restraint is the correct height. Adjust the head restraint up or down until the center of the head restraint is at least meets the center of the back of your head or higher.
Step 2: Checking for a Forward Head: Every inch the driverís head sits forward of the head restraint magnifies the injury forces. In one recent crash test performed by the Center for Research into Automotive Safety and Health, having the head forward even by an additional two inches significantly magnified the force on the head.
The center of the back part of your head should not be more than 4 finger breaths from the head restraint. This adjustment is called the backset. If you canít get your head that close, then consider buying the Car Neck Pillow as an add-on headrest to insure your comfort and protection
Learn to Reduce Risk: While at a stop, having your head or body turned during a collision can increase your chances of a significant injury. Keep your eyes on the road and your head straight. If you know youíre going to get hit, then reduce the distance between your head and the head restraint (backset) by moving your head back. The car neck pillow reduces the backset distance and increases your level of safety
The picture below is the Original Car Neck Pillow in black leather. The fastening strap is sturdy yet elastic providing easy installation and adaptability to vehicle types.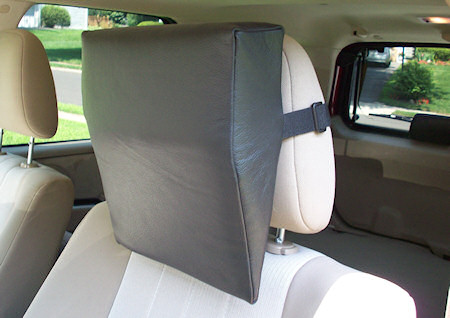 | | | |
| --- | --- | --- |
| | | |
| Tan Leather | Gray Cloth | Black Cloth |
While adjusting your headrest and being aware of posture can reduce your risk, a poorly designed head restraint, on most vehicles 1997 and older, is also a risk factor for injury. The car neck pillow is a great solution to a poorly designed headrest. The Insurance Institute for Highway Safety rates head restraint designs by model and year.
The National Highway Traffic Safety Administration (NHTSA) told automakers the head restraints in their passenger vehicles will have to extend higher and fit closer to the backs of peopleís heads. This is a big step forward and for the first time the new standard addresses the distance behind the head, referred to as backset. Head restraints will have to be within about 2 inches behind the head. Unfortunately, it is not effective untill the beginning of 2009. Fortunately, the car neck pillow can protect you now!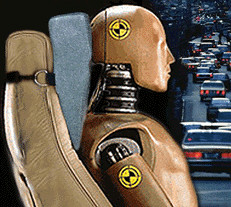 The car neck pillow places the headrest close enough to the back of your head, which is where it needs to be to provide protection in rear-end crashes. Especially poor designs are adjustable restraints that, in their lowest positions, couldnít protect most people and, at maximum height, still arenít high enough for many people. Some of these poorly designed restraints donít even lock in the full vertical, or up, position so even when theyíre adjusted, they can be pushed down in a crash.
Neck strains and sprains are the most serious injury reported in 30 to 40 percent of automobile insurance claims, depending on the type of state insurance system. This is the finding of the Insurance Research Council. Institute researchers evaluated head restraint geometry in more than 200 passenger vehicles, all 1997 models.
Measuring the geometry of all seat options in each vehicle model they could find in dealer showrooms, the researchers found fewer than 3 percent with good geometry. Two criteria determine good head restraint geometry. Height: ideally, as high as the top of the head and Backset: as little distance as possible between the back of the head and the front of the restraint. The car neck pillow is specifically design to protect you and make up for poor geometry, while providing comfort and relief from neck pain.
The Car Neck Pillow Can Save Your Neck!

Provides upper back, neck and head support to relieve tension and fatigue while driving.

Design proven in independent crash tests to reduce the severity and duration of whiplash neck injury.

Fits most cars, vans and light trucks with adjustable head restraints or high back seats.
The car neck pillow aligns the upper back, neck and head to preserve your spines natural curve. Provides soothing support and relaxes aching back, neck and shoulder muscles. Relieves pain, tension and fatigue while driving. Improves car seat safety by reducing the severity of whiplash neck injury in an accident.
Elastic adjustable strap holds the car neck pillow securely in place. Installs easily and fits most car seats in cars, vans and light trucks as an add-on headrest.
Removable, washable, stain and fade resistant cover.
Headrest measures 10" x 11" x 3" and weighs approximately 8 oz.
Orthopedic grade foam for both energy absorption and comfort
Versatile. The car neck pillow also doubles as a lumbar support or can be used on some lawn chairs or rocking chairs for added comfort.
Recommended by physicians for added safety and back pain relief. Independent crash tests documented significant decreases of the damaging forces responsible for whiplash injury. Provides full support to help speed the recovery of neck and back injuries.
The only auto cushion capable of reducing whiplash injury resulting from a car accident. Ergonomically designed, the car neck pillow encourages a relaxed sitting posture reducing neck pain, low back pain, tension and fatigue. Works with and attaches to your car's head restraint or high back car seat.

---
The Comfort Car Neck Pillow: Designed to provide support with extra comfort, the comfort model uses dacron fiber fill for soothing comfort.
The Comfort Model Neck Pillow is not intended for whiplash protection and has not been used in crash tests like the original model. It is meant for head and neck comfort and improved posture while driving or as a passenger. When you lean your head back against the pillow, the the head portion compresses as the soft fiber fill meets your neck for a soothing support that helps relieve muscle fatigue and helps prevent a stiff neck that can result from prolonged driving in poor posture.
The comfort car neck pillow is made from the same durable cloth material as the original. The Comfort model measures 10" x 11" x 4" and weighs approximately 8 oz. It will compress due to the fiber based filling unlike the original.
| | | |
| --- | --- | --- |
| | | |
| Gray Comfort | Black Comfort | Tan Comfort |
If you are not concerned about the whiplash protection factor, the comfort model is a great way to reduce fatigue and neck pain while driving.

For more information including helpfull links and frequently asked questions, car neck pillow faq