Neck Pillow Store

Car Neck Pillow

Car Neck Pillow FAQ
Car Neck Pillow FAQ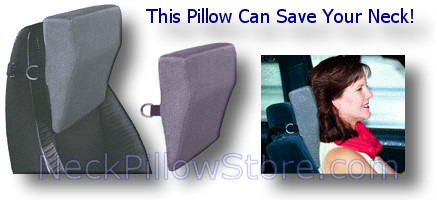 Is the Car Neck Pillow only for people with back or neck problems?
No. Everyone can benefit from added comfort and safety. Reducing tension and fatigue also helps you stay more alert.
How does it attach to my car seat?
The Car Neck Pillow is an aftermarket, add-on headrest and comes with an adjustable elastic strap. It is designed to fit both adjustable type head restraints and high back seats. The strap easily slips around either the factory head restraint or high back seat.
Does my vehicle have a head restraint?
All cars since 1969 have a factory head restraint. There are two types. Adjustable head restraints can be moved up or down and are found on 80 percent of all cars. Integral head restraints are built into the seat and we usually refer to them as a bucket seat or high back seat. All light trucks and vans since September 1991 have factory head restraints.
Will it work on a bench seat or a seat without any type of head restraint?
The Car Neck Pillow works with and improves vehicles with a factory head restraint. It can not be attached to a vehicle without either an adjustable head restraint or high back seat.
How does the Car Neck Pillow prevent whiplash?
The Car Neck Pillow may not prevent injury altogether but it will provide added protection. Filling the gap, the energy absorbing cushion limits the head's backward and subsequent forward motion and reduces the force or acceleration that your head travels during the event. Whiplash studies have determined that reducing the speed or acceleration that your head travels during the whiplash event reduces the severity and duration of the resulting injury.
Is it right for my car?
The Car Neck Pillow fits most cars. When seated in a typical car seat there's a gap between your head and the head restraint. The Car Neck Pillow fills that gap. Unless you own a car like a Volvo or Mercedes that has a well designed head restraint, the Car Neck Pillow will fit great. Less than 3% of cars or vans have 'good' head restraints.
View the IIHS Head Restraint Rating to get an idea of how your car's head restraint rates.
If a head restraint isn't behind and close to the back of an occupant's head, it can't prevent a "whiplash" injury in a rear-end collision. Institute researchers regularly evaluate the geometry of head restraints in passenger vehicles based on the height and backset relative to an average-size male. A restraint should be at least as high as the head's center of gravity, or about 9 centimeters (3.5 inches) below the top of the head. The backset, or distance behind the head, should be as small as possible. Backsets of more than 10 centimeters (about 4 inches) have been associated with increased symptoms of neck injury in crashes. For more see the NHTSA Review
| | | |
| --- | --- | --- |
| | | Independent testing by Texas A+M's accident reconstruction program identified remarkable results using the Car Neck Pillow in low impact, rear end crash tests. In comparative tests, using human volunteers and multitudes of scientific equipment, a 73 percent decrease of head angular acceleration and a 38 percent reduction of the resultant linear head acceleration were documented when using the Car Neck Pillow. There was not only less backward motion of the head, but also significantly less of a neck rotation head rotation backwards! |
Recovering from a neck injury or neck problems can make driving or riding in a car uncomfortable and even painful. Vibrations, bumps and long durations of holding your head up can irritate sensitive nerves and muscles. Collars and braces may help, but these are recommended for short periods and may restrict motion. Restricted motion slows the recovery process and makes one dependent upon such devices. The Car Neck Pillow provides support without restricting mobility of the head and neck, encouraging a neutral posture. With it's ergonomic design, the wedge shaped auto cushion follows the natural curve of your neck providing full support and encourages a relaxed posture which reduces tension and fatigue of the neck and lower back muscles. This helps relieve neck pain and low back pain making driving more comfortable especially on long trips. Don't let driving be a pain in the neck!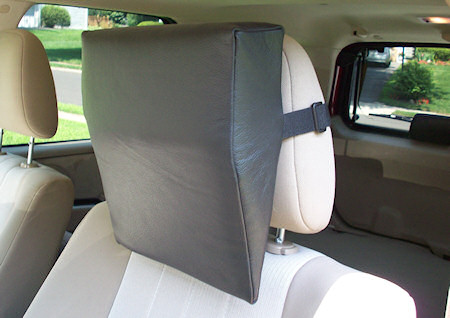 | | | |
| --- | --- | --- |
| | | |
| Tan Leather | Blue Cloth | Black Cloth |

| | | |
| --- | --- | --- |
| | | |
| Blue Comfort | Black Comfort | Tan Comfort |
If we may assist you in any way or if you have questions related to the car neck pillow, please feel free to Contact Us.