Neck Pillow Store

Buckwheat Neck Pillow
A quality buckwheat pillow with built in neck support
Most buckwheat pillows are great for support and comfort, however, this one is different. Our buckwheat neck pillow has a neck roll built into the design which offers a level of support beyond standard buckwheat pillows.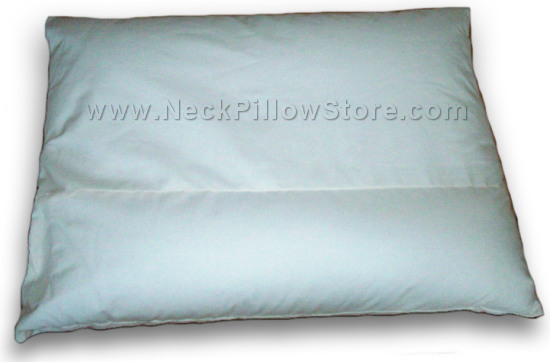 Made in America with 100% organic buckwheat hulls and unbleached, 100% cotton muslin pillowcase, the buckwheat neck pillow features a zipper for adding or removing hulls and a velcro closure for the neck roll. You can customize the level of fill to your specific needs.
Our natural buckwheat filling is ideal for people allergic to feathers and synthetic materials. Buckwheat is actually a fruit related to the rhubarb plant and the hull or outer skin of the fruit is used as filling in the neck pillow.
The buckwheat neck pillow is designed to provide firm neck support while the head rests comfortably as the hulls mold to the shape of your anatomy. This is great for neck pain, snoring, tmj problems and is cooling as the buckwheat hulls allow air to circulate. Some find it therapeutic to place the pillow in a freezer or refrigerator prior to sleeping or just to relax for a while.
The small buckwheat neck pillow measures approximately 20" x 16" x 3" and weighs 6-7 pounds. The large buckwheat neck pillow measures approximately 24" x 18" x 4" and weighs 10-11 pounds. It is recommended that you leave the neck roll portion filled above the head portion for maximum neck support, however, there is a velcro closure in the neck support to 1) keep the hulls in providing firm support and 2) to allow adjustment if necessary.

The advantage to the buckwheat neck pillow is that when you change positions, the pillow does not need to be adjusted for neck support as standard buckwheat pillows do. This also provides a more restful night's sleep as the support remains firm and in place when moving from side and back sleeping positions.

Buckwheat Neck Pillow Rating



View All Pillow Ratings
If we may assist you in any way or if you have questions related to the buckwheat neck pillow, please feel free to Contact Us.