Neck Pillow Store

Body Pillows

Body Pillow
Cuddle with the memory foam body pillow between your knees for proper pelvic alignment and superior shoulder support for your neck
The teardrop shape body pillow made with memory foam provides the sleeping position most recommended by health care professionals - the side sleeping position. In the side sleeping position, the body is kept most neutral when leg spacing and torso support is provided.
Just as our side sleeper pillow provides superior side sleeping support for the neck, if you sleep on your side and have difficulty getting comfortable then the body pillow might be the best solution.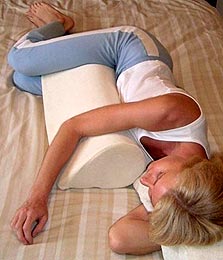 This Body Pillow is made of comfortable memory foam. It is easy to maneuver and yet still adapts to the unique shape of each user.
Body Pillow measures 6 x 10 x 28 inches.
With it's unique teardrop shape, you can experiment with the body pillow pointing both in and out to find your unique comfort position(s). Allow the heat and weight of your body to settle onto the pillow. The adaptive character of the memory foam takes only seconds to activate.
The body pillow uses memory foam to adapt to the individual user, yet is easily maneuverable and helps to maintain body temperature on cold nights.
The body pillow can also be used under the knees while sleeping on your back for added comfort and back support.
Key features: Viscoelastic Memory Foam - Anatomic Teardrop Design - Velour Cover
Details: How To Sleep With The Body Pillow

Stomach Sleeping Places The Neck In A Dangerous Rotated Position

Staggered Sleep Position With The Body Pillow Pointed In Results In Good Spinal Alignment

Supported Side Sleeping With The Body Pillow Pointed Out Results In Best Spinal Alignment

Stomach sleeping puts pressure on your organs, jaw, neck and back. Avoid this position yet maintain the stomach warmth, pressure and support with our unique body pillow using memory foam which contours to your body and hold body heat. The unique teardrop wedge design allows both full and staggered side sleeping positions with comfort and support.
Stomach sleeping is the worst sleeping position for the body, placing abnormal stress on the neck, shoulders, ribs, upper back, lower back, jaw and vital organs. The rotational stress placed on the neck can lead to stretching of the cervical nerve roots, causing pain and muscle spasm.

Stomach sleepers have a need for stomach warmth and support. Until this desire is fulfilled, stomach sleepers will find it difficult to try any other position. The body pillow can satisfy this need, offering both a fully supported staggered position (between stomach and side sleeping) and a fully supported side sleep position with the comfort and warmth of memory foam.
Benefits Of Our Teardrop Body Pillow Pillow
Low Emissions (VOC's)
Made without BPA
Made without Phtalate
Made without Ozone Depleters
Made without Formaldehyde
Made without Methylene Chloride
Made without Mercury, Lead & Heavy Metals
Made without BHT
Made without CFC's, HCFC's & PFC's
Made without PBDE
Emissions Tested
Performance Tested
The CertiPUR-US seal indicates the foam in your body pillow has been tested and certified to meet specific criteria for physical performance, indoor emissions and environmental stewardship.

Stay Fresh Technology indicates the materials are hypo-allergenic and non-toxic. This technology reduces the harsh chemical odor associated with memory foam products and uses pure baking soda to maintain freshness and will not absorb odors.

The Body Pillow comes with a comfortable 80/20 Cotton/Poly blend Velour cover, however, we offer additional covers should you need one.

We have combined our most popular pillow with the body pillow in a package which saves over $20.00 from purchasing each item individually. The PostureMed Contour Memory Foam Pillow and the Teardrop Memory Foam Body Pillow are two of our most popular pillows and compliment each other for great side and back sleeping.


Side Sleeping Pillow Package
If we may assist you in any way or if you have questions related to the body pillow, please feel free to Contact Us.