Neck Pillow Store

Back Supports

Back Support Pillow
The back support pillow can help with upper back pain and promote better neck posture, for use in your car, home and office
Most people think of a back support pillow for the lower back only, however, this one is quite different. This Back Support Pillow not only provides support for the lower back, but also for the upper back. It is important for good neck posture to have the correct support from seats which you may use in your car, home and office.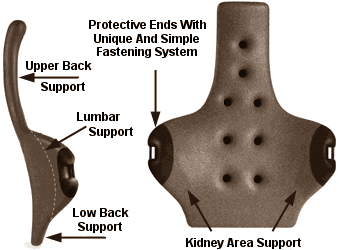 Many of you spend a good part of the day in one or more chairs, therefore, it is a great help when you can use one pillow for all your chairs.
This back support cushion provides a correct posture environment for the neck by promoting stability for the upper and lower back which becomes the foundation of support for the neck.
The side supports cradle the kidney area comfortably and provide lateral support. Along with an easy to use protective fastening system designed to last. With a lightweight cushion, it is easy to travel with from home to car and office.
Available in 3 sizes: Small (5' 2" and Under) - Medium (5' 2" - 6'2") - Large (6' 2" and Over)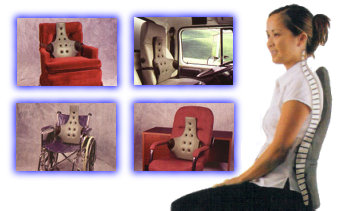 Anatomically designed to support your lower back and upper back properly, leaving your shoulder blades free for unrestricted movement and providing a stable posture base for the neck.
Reduces lower back pain and fatigue and is ideal for an effective back and neck care program.
For use as lower back, lumbar and upper back support in most chairs, vehicles and wheelchairs.
A fiberglass insert is surrounded with soft premium quality molded foam. The outer surface is covered with a durable stretch fabric cover. Included is a nylon strap that is looped through the fiberglass insert for long-lasting durability that will then easily attach to any seat. It is the first back support that concentrates on supporting the whole spine, from the thoracic to the sacral, while protecting the kidney area. It will also allow the shoulder blades the flexibility to operate a computer, drive a vehicle or work a wheelchair.
Thoroughly tested by a panel of ACA ergonomic experts, the Back Support Pillow offers "therapy while you sit," by matching the natural curvature of the spine and by providing excellent low back and lumbar support.

"The ACA is dedicated to raising awareness of the critical role proper ergonomics can play in one's overall health and wellness," said ACA President Donald Krippendorf, DC. "If you spend long hours sitting in a chair-whether in your office, home or car-the Back Support Pillow can provide you with the support you need to avoid unnecessary pain and injury. It will also provide relief of discomfort if you are currently experiencing back problems."

An ideal partner to an effective back care program, the Back Support Pillow is available in three sizes-Short back, Average back and Tall back-to provide support for people of all sizes. Further, the back support's simple fastening system allows for quick and easy fastening to any kind of seat, including car seats, office chairs and your chairs at home.

"Two features of the Back Support Pillow I particularly like are its side supports that cradle the sides of your body, providing extra comfort and lateral support, and its upper design that allows for free, unrestricted movement of your shoulder blades," said Dr. Krippendorf. "Most critical is the overall back support and relief that the Back Support Pillow provides to virtually anyone."

If we may assist you in any way or if you have questions related to the back support pillow, please feel free to Contact Us.