Neck Pillow Store

Back Supports

Back Support Cushions
Back Support Cushions promote proper posture while sitting, offering comfort and support for the lower back
According to the American Academy of Orthopedic Surgeons, the majority of low-back pain reported in the United States occurs within the lower five lumbar regions. The most pain falls within the fourth and fifth lumbars, adjacent to the sacrum. As the last movable joint along the spine, the lumbosacral joint – where the fifth lumbar connects to the sacrum – bears greater weight and stress and, therefore, has a greater risk of strain or injury.
Regular wear and tear: Back injuries are not ordinarily caused by instant trauma, but rather are the result of wear, tear and abuse occurring over an extended period of time. Research has found that some 80 percent of repetitive stress disorders, particularly in the lumbosacral area, are caused by poor posture, fatigue and exhaustion. And, with the center of gravity of the spine at the lumbosacral area, misalignments from normal ranges of motion usually result in dysfunction in the body.
Most of the incidences of back injury thought to be the result of a single traumatic event are the result of cumulative damage.
The majority of complaints from a traveler include poor posture, fatigue and exhaustion, all are common causes of low-back pain. As such, one of the more common complaints of travelers is an aching back. Why? Because travelers sit for prolonged periods of time, they haul heavy objects like luggage and children through airports and hotels, and sleep in strange beds with unfamiliar pillows.
Whether you are traveling or at a desk, prolonged sitting will fatigue the back muscles. Eventually, one slips into a poor posture. The solution is to sit straight and use a lumbar cushion that will support your lower back. These cushions can be very effective in promoting proper posture in any chair while providing support and comfort for your lower back.
With many different body shapes, many different styles of back support cushions are available. While foam comfort supports are common, others use fiber, rigid plastic or air bladders. At the heart of each of our foam back cushions is a precision-cut long-lasting foam which is manufactured with the highest quality. Stepping up from basic models are deluxe models that can include a higher-grade fabric and positioning belts.
---
Inflatable Back Support Cushion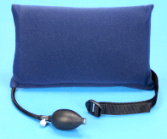 The Inflatable Back Support Cushion can be strapped into your car, onto a chair, or tucked into your suitcase. So, wherever you are, you can combat fatigue when sitting for prolonged periods, and reap the rewards of a mind and body that are more relaxed and alert.
Adjust the level of support with the squeeze of the hand pump.
A durable air bladder encased in a breathable foam pad cover for comfort. Straps easily to any chair for proper positioning (positioning belt included). Blue cover. 7"x11" (18cm x 28cm)
---
Standard Back Support Cushion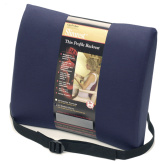 Take care of your back as you sit... and drive. Doctors who treat people with sore backs count years of wear and tear on the spine from poor posture, fatigue and exhaustion among the most common causes of lower back pain. But even if you sit and/or drive for long periods you can use a well-designed and crafted backrest to promote proper posture and save your back from some of that wear and tear.
Our Standard Back Support Cushion comes in may options to suit your needs. A comfortable, versatile backrest promotes proper posture and support for the back. The gentle wings hug you from behind and help keep you in the correct position. Precision-cut contoured foam with a durable fabric cover and a positioning belt.
Standard: Support for most seats. Slim: A slimmer silhouette; precision-cut contoured foam with a durable fabric cover. Bucket Seat: Shaped to fit snugly against bucket seats for support when driving.
13"x14" (33cm x 36cm) Colors: Black, Gray & Blue
Extra Wide: All the comfort and quality of our standard back support cushion in a slightly wider backrest. Designed for those with larger frames. 13"x16" *No positioning belt.
---
Contour Back Support Cushions
The Contour Back Support Cushion is available in a tall and standard size for use at home, work, or in the car.

The Tall Contour Back Support Cushion provides comfortable and complete support for your upper and lower back. High-quality, precision-cut foam is contoured to fit most curves in your back. Durable fabric cover. 22"x14" (56cm x 36cm) height.

The Standard Contour Back Support Cushion provides comfort and support to any body size. Contoured shape helps proper back positioning in any chair or car seat. Precision-cut high-resiliency foam. Durable fabric cover. 13½"x12" (34cm x 30cm)